11 arrested for child porn possession in Polk County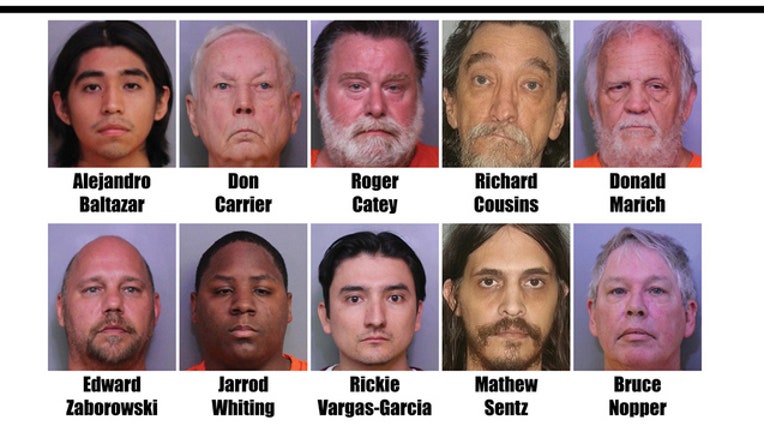 article
WINTER HAVEN (FOX 13) - Eleven people have been arrested following a child porn investigation in Polk County, deputies say.
In May, the Polk County Sheriff's Office conducted an investigation they called "Operation Guardians of Innocence II," which focused on arresting people involved in possession, promotion and distribution of child pornography. They said 660 felony charges were filed, with more pending. The ages of those arrested ranged from as young as 16 years old to 84 years old.
"In all likelihood we will be adding on more charges related to the felony possession and distribution of images and videos of children being sexually battered," Polk County Sheriff Grady Judd said in a statement. "Most of the images we saw during this investigation depicted children being sexually battered, that we have seen before - which means we haven't yet identified any local child victims, but as always, that is also a part of our investigation." 
The operation led to the following arrests, according to PCSO:
48-year-old Edward Zaborowski of Davenport: Detectives said they found child porn file on his computer showing victims as young as 4 years old. Zaborowski said he searched and downloaded the material in the past two years. Officials say he is a bartender in Orlando, a parent helper and driver for his son's Boy Scout Troop. 
64-year-old Richard Cousins of Lakeland: Detectives said Cousins is married, and found child porn files on his computer showing victims as young as 8 to 10 years old. 
51-year-old Bruce Nopper of Auburndale: Detectives said Nopper told them he was addicted to viewing child porn after finding files on his computer. His girlfriend told detectives she found the images on his computer in the past, and destroyed the hard drive with bleach and a sledgehammer. 
30-year-old Rickie Vargas-Garcia of Davenport: Vargas-Garcia admitted he downloaded the disturbing material, but also solicits underage females online to send him nude photos and videos of themselves, detectives said. He told detectives he is a Lego builder for Merlin Entertainment. 
84-year-old Don Carrier of Davenport: Carrier told detectives he waits for his wife to leave the home before watching child porn videos and has done so for several years, detectives said. 
53-year-old Roger Catey of Davenport: Detectives said Catey told them he worked as a project manager in the costumes department for Walt Disney World. 
35-year-old Mathew Sentz of Lakeland: Sentz said to detectives he has been viewing the disturbing material for about a year. He is a registered sex offender after being arrested in 2000 for child porn possession when he was 17 ears old. In 2009, he was arrested by Lakeland police for failing to register as a sex offender.
24-year-old Jarrod Whiting of Lakeland: Detectives said Whiting admitted to viewing child porn for "a while."
20-year-old Alejandro Baltazar II of Mulberry: Baltazar II said he was viewing child pornography for about two years, and is a Hillsborough Community College student, detectives said. 
69-year-old Donald Marich of Lake Alfred: Marich admitted he is a retired schoolteacher from Maricopa County, Arizona. He initially denied downloading the material, but detectives said they found child porn on his computer. 
16-year-old Kissimmee boy, whose name was not released, who attends Haines City High School: Child porn was found on the teenager's cell phone, detectives say.
All face charges of child porn possession. Carrier was charged with the most – 200 counts of child porn possession. 
Sheriff Judd is expected to provide additional details during a 1:30 p.m. press conference on Tuesday.