Sayreville still stunned by councilwoman's murder, 3 months later
NEW JERSEY - Nicole Teliano used to play games on her phone in the Mayor's Office at Sayreville Borough Hall while her mother tended to the tedious, often acrimonious task of serving in local government.
The 11-year-old didn't mind sharing her mother, councilwoman Eunice Dwumfour, with residents of the central New Jersey town, those she pastored at a prosperity gospel church in Newark or the Nigerian church colleague she married in Abuja in November.
"Well, my mom was a little bit of extra, so I could share a little bit. There was enough to go around," Nicole said in a family interview with The Associated Press this month, as loved ones seek answers after the 30-year-old Dwumfour was gunned down on Feb. 1.
The case is reverberating from New Jersey to West Africa, with touchpoints including politics, religion and money that echo across continents.
"She was a councilwoman, who just got murdered, brutally," family Pastor Karl Badu of The Church of Pentecost said. "It's just not common for somebody to come home from work and be ambushed in her parking lot."
Dwumfour's parents and new husband Peter Ezechukwu — who hoped to join his wife in the U.S. this spring but instead came for her funeral — are frustrated by the ongoing silence from officials.
The Middlesex County Prosecutor's Office said it needs to protect the integrity of the investigation. Family lawyer John Wisniewski knows that it could take time to examine everything from Dwumfour's cellphone data to the bitter squabbles that surfaced on council to her work with her church, Champions Royal Assembly. With his help, the family finally met with investigators in March.
PREVIOUSLY: Slain NJ councilwoman's mother: 'I need justice for my daughter, please'
He believes they're "looking at everything."
Just before the shooting, Dwumfour dropped off a housemate after a trip to the grocery store. She lived in the apartment complex, Camelot at La Mer, with her daughter and two church friends, the family said.
"We were waiting for my mom to look for a parking space, and then, she was taking a lot of time, so we started calling her over and over and over, but it wouldn't pick up, and then we heard gunshots, and we started calling the police," said Nicole, who had dinner ready for her mother. "I thought it was fireworks."
Neighbors saw a man argue with Dwumfour at her driver's side window, then open fire before running toward the nearby Garden State Parkway and disappearing.
"Eunice was too good of a person to let (her death) go unanswered," Mayor Victoria Kilpatrick said at a Feb. 8 memorial service, where hundreds mourned the stylish preacher known as "Pastor Eunney_K."
PREVIOUS: What we know: Sayreville councilwoman murdered outside her home
Dwumfour, the eldest of five born to Ghanaian immigrants, had been active in Christian ministry since she was a teen. She graduated from Newark public schools and earned a degree in women's studies from William Paterson University in 2017.
In campaign material, she said she had worked as a business analyst before moving to Sayreville in 2017. She won a close race for city council in 2021, running on a Republican ticket with church colleague Christian Onuoha. Their victory left council with a 3-3 split instead of a 5-1 Democratic majority. Tensions often ran high.
"It's 2023 and my prayer for everyone is that our mindset will change," Dwumfour said at the first meeting in January.
Most of Dwumfour's time, though, seemed devoted to her church, which met several times a week above a Goodwill store in Newark.
"God loves a cheerful giver!" she said in a 2017 sermon posted online, extolling a central tenet of the prosperity gospel theology.
Champions Royal Assembly founder Joshua Iginla — who married Dwumfour and Ezechukwu in November — oversees an 80,000-seat church in Abuja, travels by private jet and sometimes gives away cars and cash to widows and others on his birthday, according to his social media posts. He also has a growing base in Johannesburg and a home in New Jersey.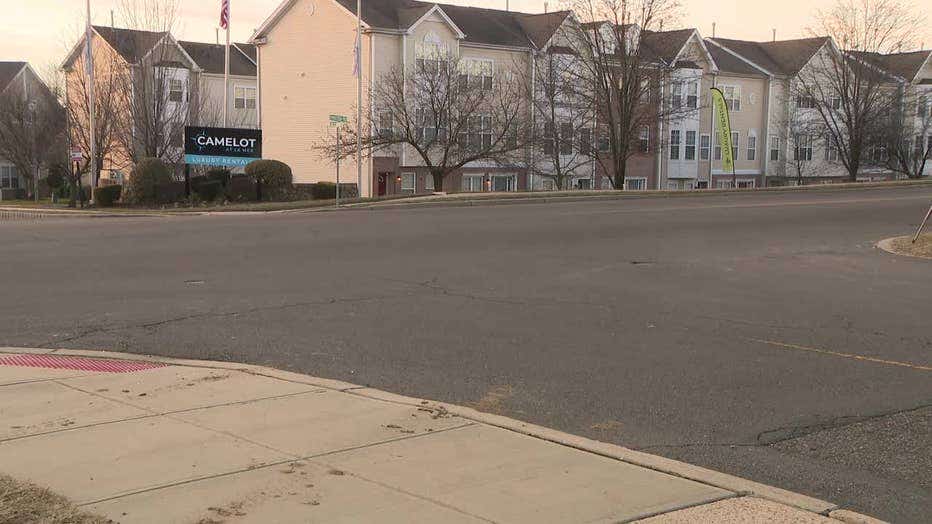 The Camelot at La Mer apartment complex
But court records and tax filings suggest money was tight in the church's newer U.S. operations. Dwumfour, as an officer, had been named in a series of landlord-tenant disputes in Newark dating from 2017 to 2020 involving a related church entity, the Fire Congress Fellowship. That entity had seen its income drop from about $250,000 in 2017 to just $350 in 2020.
And an eviction warrant had been sought on Jan. 3 for her Camelot unit before property managers dismissed the case on Jan. 16. That same month, Dwumfour wrote on LinkedIn that she was looking for a new job. She made $5,000 a year for her council work, and did not appear to take a salary from the church. Nicole thinks her mom also did some work as a nurse assistant.
Dwumfour had previously stayed at a second Camelot unit that is listed as the business address for both church entities. Pastor Osi King, a regional church administrator linked to that unit, did not return calls seeking comment.
Onuoha, who held the lease on the Camelot unit where Dwumfour was staying when she died, had hoped she might soon take over the apartment.
"I was just so happy that she was married," Onuoha told the AP. She seemed to be in "a very good place."
Yet Nicole was less sure.
"That week, she started acting sad," Nicole said. She asked what was wrong, and her mother said, 'It's just work. It's a lot.'
"I knew it was something else," she said quietly.
Dwumfour's husband spoke with her from Abuja an hour before she died. "(It was) just normal: 'I love you.' 'How are you?'" Ezechukwu, 36, said.
At the Jan. 3 council meeting, tempers had flared over leadership assignments before Onuoha was named council president and Dwumfour the public safety chairperson. She urged harmony in the new year.
"I'm not here because of the (Republican) party or any other thing. I'm here because I was appointed here by God., … and I'm here for my conscience," Dwumfour said.
On April 10, Sayreville Mayor Victoria Kilpatrick announced she will not seek reelection, citing safety concerns and a threatening letter she was sent.
Ezechukwu, instead of a new life with Dwumfour, has only memories and cellphone photos of their four-year romance. "Nigerians ... want to know, 'What really happened?" he said. "We need justice for her."