Advocates speak out for Equal Pay Day, highlighting gender wage gap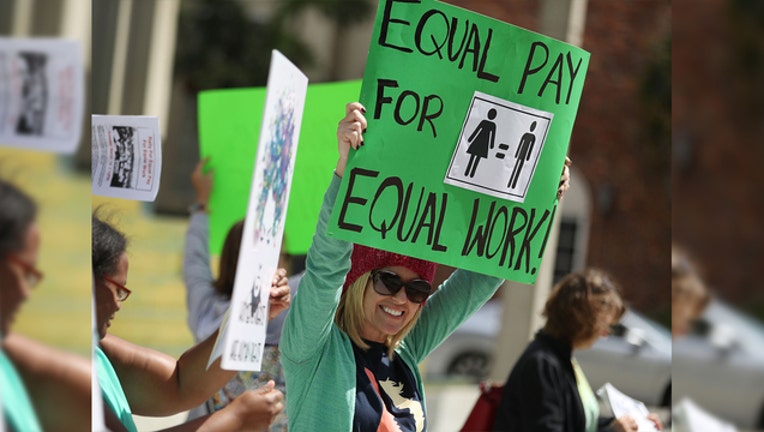 article
WASHINGTON - In the continuing fight for equal pay for female workers, women and men across the country are joining in advocacy efforts for Equal Pay Day.
In D.C., equal pay advocates met at the Equal Employment Opportunity Commission, as equal pay advocacy organizations deliver thousands of petitions, calling for "immediate and concrete steps to jumpstart the equal pay data collection process."
They are also holding a press conference to highlight "how the wage gap hurts women and their families."
In New York, former journalist Catt Sadler is speaking out about the way women are shortchanged when it comes to salaries and pointing to online tools they can arm themselves with during future negotiations.
The former E! News host walked out on her job late last year after discovering she was paid far less than a colleague.
"My story is not singular. There are dozens, countless hundreds, thousands of women experiencing the same thing that I did," Sadler said. "And so I've heard from them and they're saying, 'Please fight this fight.' They're saying, 'Please be our voice when we don't have one.'"
Sadler, a longtime co-host of "Daily Pop" on E! Entertainment, left the network after learning that on-air partner Jason Kennedy made nearly twice as much money as she did.
She soon found herself a symbol of the wage gap, championed on the red carpet by celebrities that she used to interview, like Eva Longoria, Debra Messing, Natalie Portman and Laura Dern.
"They were saying my name but almost just as a symbol for all of the wrongs and trying to shine a light on that," Sadler said. "It just reaffirms that there are enough women that have had it. Time is up. The silence? No more."
Sadler has teamed up with Luna Bar, which is offering free online resources to combat pay inequality. The nutritional bar brand is also donating a portion of its profits to the American Association of University Women to fund salary negotiation resources.
Sadler said that until laws change or courts get involved, the responsibility of landing appropriate compensation falls on the individual. But she noted that only 30 percent of women actually negotiate their salaries.
"That's way too low. So we've got to get in the game, ladies," she said. "We have to arm ourselves with not only the courage to stand up for ourselves and make some noise and knock on the door and say, 'This is my work and this is what I want.' But we have to be able to back it up with substantial tangible information that makes our argument a strong one."
Some of the tips for job hunters include deflecting questions about salary until after getting a job offer, as well as querying future employers if male colleagues will be earning more for the same work. "We have to ask the hard questions," Sadler said.
White women in America make about 80 cents for every white male's dollar, while Latina women make 54 cents, and black women make 63 cents, according to the American Association of University Women.
According to new research conducted by Lean In and SurveyMonkey, once people know there's gender pay gap, most agree it's a problem.
LeanIn.org reports women on average are paid 20% less than men, and Black women and Latinas are paid even less.
Based on findings from LeanIn.org and Surveymonkey, one in three Americans is not aware of the gender pay gap, and men are almost twice as likely as women to think it does not exist. Thirty-seven percent of men think there is no pay difference by gender, compared to just 20 percent of women.
Earning 20 percent less is a big problem: Almost 75 percent of Americans think it would be a major problem or crisis if they earned 20 percent less money, and 85 percent think it would be a major problem or crisis if they earned 40 percent less. However, women on average are paid 20 percent less than men, and compared to white men, Black women are paid 38 percent less and Latinas are paid 46 percent less.
The wage gap even exists in Hollywood, with female stars in films such as "All the Money in the World" and TV series like Netflix's "The Crown" being paid far less than their male counterparts, even if they have more prominent roles.
As for her own abrupt exit from E!, Sadler isn't looking back, saying, "I believe I'm on the path I'm intended to be on." But she regrets not pushing for a higher wage package earlier. "I think I tried to play catch-up a little too late. I think that's where I was hurt because I was in the dark for so long," she said.
E! said in a statement that it compensates employees fairly and appropriately based on their roles, regardless of gender. Frances Berwick, president of NBCUniversal Lifestyle Entertainment, said Kennedy has more extensive duties than Sadler, including work on the network's profitable red carpet franchise. "Catt Sadler and Jason Kennedy had different roles and therefore different salaries," he said.