Air Force names Thunderbirds pilot killed in Nevada crash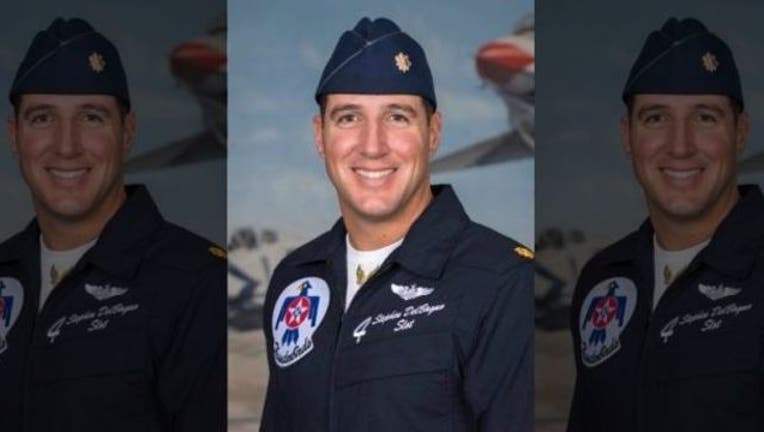 article
LAS VEGAS (AP) - A U.S. Air Force Thunderbirds pilot who died in the crash of a military jet during a training flight in Nevada was a former civilian flight instructor and banner tow pilot from Valencia, California, officials said Thursday.
Maj. Stephen Del Bagno, 34, was killed Wednesday when his F-16 Fighting Falcon known as Thunderbird 4 crashed in the vast Nevada Test and Training Range north of Nellis Air Force Base outside Las Vegas.
His Thunderbirds biography said Del Bagno was also a corporate pilot and skywriter who graduated in 2005 from Utah Valley State University and was commissioned two years later from Officer Training School at Maxwell Air Force Base in Alabama.
He was in his first season with the Thunderbirds flight demonstration team, after serving with the 58th Fighter Squadron at Eglin Air Force Base in Florida as an F-35A stealth jet evaluation pilot.
His biography credited him with more than 3,500 total flight hours in more than 30 different aircraft - the equivalent of more than 87 work weeks of 40 hours each.
In a statement, Brig. Gen. Jeannie Leavitt, commander of the Air Force 57th Wing at Nellis, called Del Bagno an integral part of the flight team and said his loss was mourned by the military, family and friends.
A Thunderbirds spokeswoman, Sgt. Stephanie Englar at Nellis, said plans were being made for a memorial but a date had not been selected.
The Air Force said an investigation of the crash was underway and Thunderbirds participation at an air show this weekend at March Air Reserve Base in California had been cancelled.
Officials have not said how the crash will affect the rest the 2018 Thunderbirds demonstration season.
The incident was the third U.S. military aircraft crash this week. A Marine helicopter crashed during a training mission in Southern California, killing four crew members, and a Marine Harrier jet crashed at an airport in the East African nation of Djibouti. The pilot in that case ejected.
The Air Force formed the Thunderbirds in 1953. Its worst accident was the 1982 "Diamond Crash" that killed four pilots when their planes went down near what is now Creech Air Force Base northwest of Las Vegas. A malfunction in the leader's plane led him and the three others to crash in the diamond formation straight into the desert.
The team's last crash was in June 2016, when an F-16 went down after performing a flyover with then-President Barack Obama in attendance at an Air Force Academy graduation ceremony in Colorado. The pilot ejected and was unhurt. An equipment malfunction was blamed.