Alabama officer killed, suspect found dead after standoff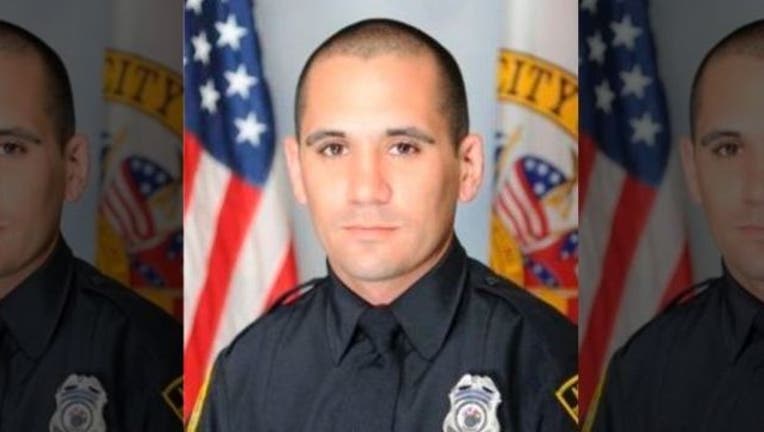 article
MOBILE, Ala. (AP) - An hourslong standoff in Alabama ended with both the suspect and a police officer dead.
Mobile Police Chief Lawrence Battiste told news outlets early Wednesday that Officer Justin Billa was shot Tuesday night and succumbed to his injuries at a hospital.
Earlier Tuesday evening, officers responding to a report of a person hit had found Fonda Poellnitz dead. Police identified her ex-husband, Robert Hollie, as a person of interest and set up a perimeter around his Toulminville home. Battiste said officers called upon him to come out, but Hollie instead opened fire, striking Billa.
At least one officer fired shots at the scene.
Around five hours after Poellnitz's body was found, the standoff ended, with Hollie dead. Battiste said police did not yet know if Hollie died from self-inflicted injuries or from the shots previously fired by police.
Police have not disclosed Poellnitz's probable cause of death. Her daughter, Octavia Poellnitz, had identified Hollie as the likely suspect to WKRG-TV before Battiste spoke to news outlets.
"He didn't love my momma," she said.
Battiste said police plan to provide an update around midday Wednesday. He didn't offer much information on Billa, saying he still needed to visit the University of South Alabama Medical and speak with Billa's wife.
Billa joined the force in January 2016, according to the Mobile Police Department's website. He was named the department's officer of the month that June, winning a commendation for investigating complaints of robberies committed by a man whom he later arrested. The announcement of his award cited Billa's attention to detail and commitment, per his commanding officer.
In July 2017, Billa was interviewed by WALA-TV for a segment on the police force's relationship with community members. He spoke about his intentions as a police officer and goals for the force as a whole.
"We need to go back to helping people instead of just taking them to jail and creating bigger problems," he said. "That's my ideal of good policing and I feel like that's what the chief is working toward."
As WALA-TV reporter Rudy Harper introduced the officer, he noted that Billa was "just six months into the job, a job he wants to do for the rest of his life."