Amazon wants to turn street lights and even church steeples into drone docking stations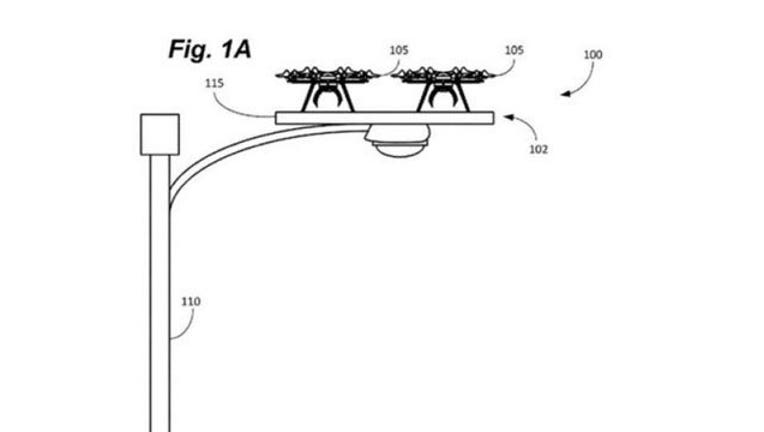 article
Amazon's Prime Air drone delivery service, if it ever gets off the ground, could one day use the top of street lights, cell towers, and even church steeples as docking stations for its flying machine.
The stations would serve as charging points for the drones, enabling them to stop off at multiple points for a battery boost thereby giving them a much greater flying range. Such a system could, in theory, open up pretty much the whole of the country to the possibility of drone delivery, as a single drone could hop from point to point on its way to an address.
The docking stations could also shelter the drones from harsh weather conditions that may develop after they leave the distribution center to begin their delivery run.
The new ideas are outlined in a patent awarded this month by the United States Patent and Trademark Office (USPTO) under the title, "Multi-use UAV (unmanned aerial vehicle) docking station systems and methods."
Filed exactly a year after Jeff Bezos took the wraps off his grand drone-based delivery plan at the end of 2013, the patent suggests the docking stations could also incorporate solar panels to generate power for the system, as well as security cameras, and even Wi-Fi hotspots for nearby folks.
"This can enable cities to provide free Wi-Fi in public parks, buildings, and other public areas without bearing the burden of installing some, or all, of the necessary infrastructure," the patent suggests.
Intriguingly, the patent also says the stations could act as a dropping-off point for packages, with the consignment released through "a sliding door, a roll-up door, or other type of door to provide access to the package transfer system, while reducing, or eliminating, the infiltration of water, dirt, and debris into the package transfer system." It's possible such a delivery point could be a regional Amazon depot from where last-mile delivery is carried out by drivers, or even autonomous trucks and six-wheeled robots.
Of course, it's always worth noting that this is just a patent, and so the idea may never see the light of day. It does, however, offer us some insight into how the Seattle-based company is exploring different ideas linked to its sky-based delivery plan.
New rules relating to commercial drone flights, issued by the Federal Aviation Administration in June, dented Amazon's hopes of launching its drone delivery service anytime soon. For example, the new regulations stipulate a drone must stay within the line of sight of the operator at all times -- a rule that's clearly no good for the e-commerce giant and its autonomous Prime Air flying machine.
Read more on FOX NEWS.