American Dream gets inspection report after decorative helicopter fall
EAST RUTHERFORD, NJ - An inspection report has been released after a decorative helicopter suspended from the ceiling fell into the swimming pool at American Dream's water park back in February, injuring four people.
The mall's water park in East Rutherford spans nearly eight acres and includes 40 slides and attractions, but the report focuses on the intricate decorations hanging from the ceilings -- and some big problems that need to be fixed.
The decorative helicopter. (Twitter/@Ralph Valliere)
Two structures needed to be addressed
The new information, first reported by northjersey.com, shows two more structures that needed to be addressed:
A tree branch that hung from a cable at a template structure at the water park. It was repaired with the installation of new clamps.
A large parachute penguin figurine, which was held by a ceiling cable so heavily damaged that they were not in a serviceable condition.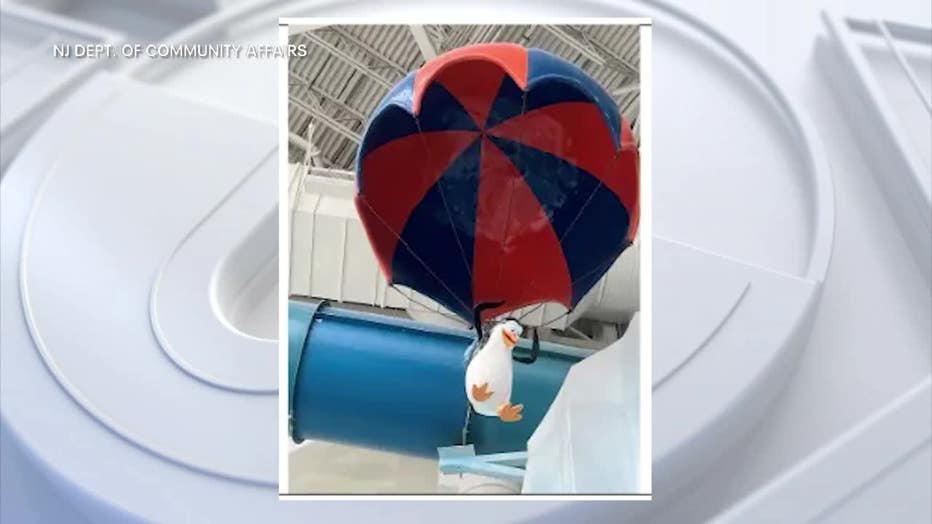 Large parachute penguin figurine. (NJ Dept. of Community Affairs)
According to the report, "the cables between the parachute and the penguin in this theming element are exhibiting deterioration. The cables within the element are not in a serviceable condition. The owner is mobilizing a contractor to remove the element. Once removed, no further action is recommended."
It appears they have been taken down.
RELATED COVERAGE
MORE: NJ orders American Dream water park to stay closed amid investigations
MORE: American Dream water park reopens after helicopter display fell, injuring four people
No violations were issued by the state for the two structures which required attention.
Four people were injured back in February when the helicopter fell into the swimming pool.
It happened Sunday, February 19, shortly after 3 p.m.
According to officials, one person was taken to a hospital and three others were treated at the scene. None of the injuries were life-threatening.
The venue was evacuated.
In a statement, a mall spokesperson had said, in part, "The safety of our guests is our highest priority. We will conduct a thorough investigation into this incident to ensure the park meets all safety regulations as required."