As flood waters rise in Md. storm, dramatic rescue unfolds on Facebook Live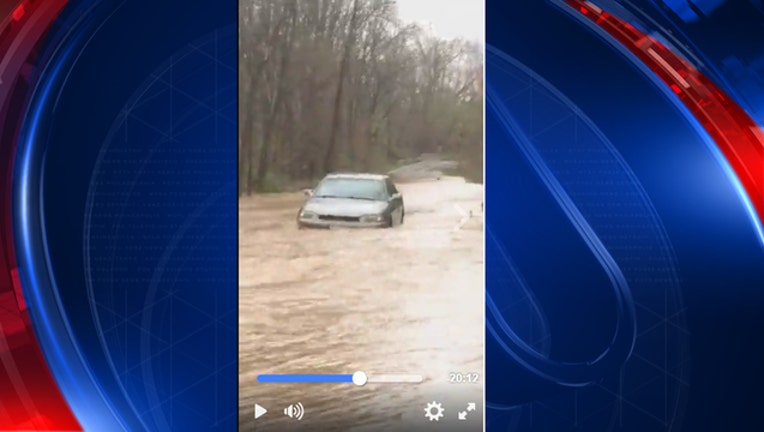 article
LAUREL, Md. - A Baltimore TV reporter was live on Facebook when flood waters rose quickly, putting the lives of two people and a toddler inside a car in danger. FOX 45 Baltimore reporter Kathleen Cairns was on Facebook Live in Laurel, Md. reporting on flooding brought on by heavy storms that moved through the state Thursday when the car the women and child were riding in got stuck and started to take on water.
Cairns and a photographer were along Brock Bridge Road in Laurel when flood waters from the Patuxent River began rising very quickly. She was talking to drivers who were still trying to make it down the road, despite the severe flooding. About 10 minutes into the video, the water really began rising quickly. Cairns watched as cars and trucks drove through, despite water up to their headlights.
Some drivers opted to turn around, but near the 30-minute mark in the video, another car tried to make it through and couldn't. Cairns saw them floating in the water and realized they weren't in control of the car. She waded into the knee-deep water, but couldn't get close enough to the car to really see them. Cairns noted to those watching that others at the TV station had already called for help, as the car's horn started blowing continuously.
The camera was shaky as Cairns tried to keep those watching informed, while flagging her coworkers and others who stopped at the scene for help. At about 35 minutes into the video, the women inside the car started calling out to Cairns from the sunroof. She assured them help has already been called, and to stay put.
"You're going to be okay. We called 911," Cairns shouted to them.
About six minutes later, there were sirens as emergency responders arrived, and Cairns gave them information about the women trapped in the car. The dramatic rescue unfolded as Cairns continued to stream live on her Facebook page.
In a second video, Cairns was live when rescuers finally pulled the women and child from the car to safety. She spoke to one of the women, who was carrying the child in her arms.
"I thought it was deeper when the car started flooding with water, and I just waned to get my baby out," she told Cairns as she was led away to be checked out by first responders.