Baton Rouge officers disciplined, video released in Alton Sterling case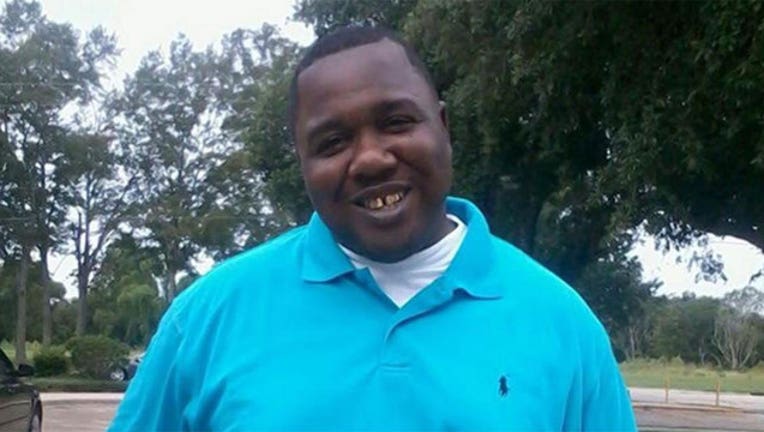 article
BATON ROUGE, La. (AP) - During a Baton Rouge Police Department news conference on Friday, Chief Murphy Paul confirmed that one of the officers involved in the fatal shooting of a black man in Baton Rouge has been fired and the other will be suspended. 
Chief Paul announced officer Blane Salamoni's firing less than a week after Louisiana's attorney general ruled out criminal charges in Alton Sterling's July 2016 shooting death.
Paul also suspended officer Howie Lake II, the other officer involved in the deadly confrontation, for three days. Lake helped wrestle Sterling to the ground but did not fire his weapon that night.
"My decision was not based on politics," Paul said during a news conference. "It was not based on emotions. It was based on the facts of the case."
Both officers had remained on paid administrative leave since the shooting.
Police also released body camera footage and other videos of the officers' deadly encounter with Sterling.
In the body camera footage of the encounter, an officer can be heard repeatedly using profanity as he shouts at Sterling and at one point threatens to shoot him in the head as Sterling asks what he did.
When Sterling complains that the officers are hurting him, one of the officers says to use a Taser on him and an electric buzzing can be heard. The officer believed to be Salamoni then runs at Sterling, tackling him as the camera footage blurs with motion.
Someone yells "he's got a gun," then gunshots ring out.
Salamoni shot Sterling six times during a struggle outside the Triple S Food Mart, where the 37-year-old black man was selling homemade CDs. Lake helped wrestle Sterling to the ground but didn't fire his weapon.
After the shooting - as Sterling lies on the ground - an officer can be heard using profanity to say Sterling was stupid.
The officers recovered a loaded revolver from Sterling's pocket. As a convicted felon, Sterling could not legally carry a gun.
L. Chris Stewart, a lawyer representing two of Sterling's five children, said the newly released videos show officer Salamoni attacked Sterling without provocation "like a wild dog."
"The most obvious thing that stands out is Alton wasn't fighting back at all," Stewart said. "He's trying to defuse it the whole time."
Louisiana Attorney General Jeff Landry announced Tuesday that his office isn't charging either officer with state crimes. The Justice Department ruled out federal criminal charges last May.
Sterling's death inflamed racial tensions in the state's capital city and led to protests where nearly 200 people were arrested.
In June 2017, Baton Rouge Mayor Sharon Weston Broome called on Paul's predecessor, Carl Dabadie Jr., to fire Salamoni. Dabadie refused, saying it would be improper and premature because the shooting remained under investigation.
Paul said Tuesday that he and three deputy chiefs would preside over a disciplinary hearing - closed to the public - before imposing any punishment. He detailed the results of that hearing at a news conference.
Salamoni's attorney, John McLindon, had said Tuesday that he expected the officer to be fired. He called it "grossly unfair" that a disciplinary hearing was planned less than a week after the end of the criminal investigations. Lake's lawyer, Kyle Kershaw, said his client's actions complied with department procedures.
Salamoni had served as a Baton Rouge police officer for four years before the shooting; Lake was a three-year veteran of the force.
Two cellphone videos of the incident quickly spread on social media after the shooting.