Beer of champions? Wheaties teams up with brewery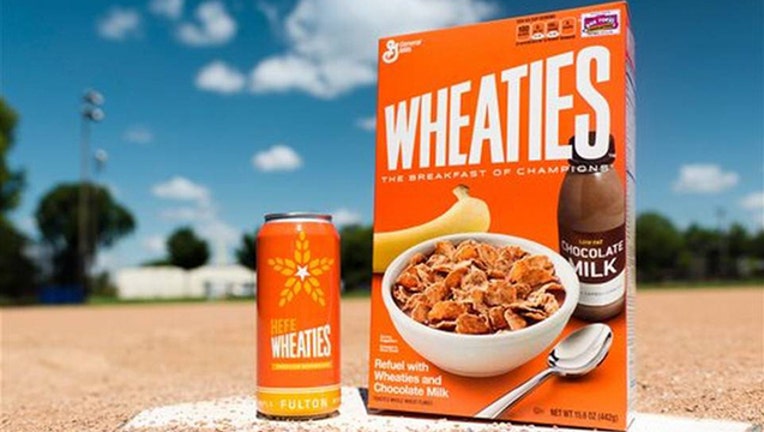 article
NEW YORK (AP) — These Wheaties may not be so good with milk.
Wheaties says it is partnering with a craft brewery to create a limited-edition beer. The 16-ounce cans will only be available in the Minneapolis-St. Paul market starting Aug. 26, according to Wheaties parent company General Mills.
It's not exactly clear what makes it Wheaties beer, besides being made from wheat.
General Mills says the beer will be called HefeWheaties in a nod to a German style of beer called hefeweizen, which is typically made with more than 50 percent malted wheat.
"We're not saying it's a breakfast beer, but we're not saying it's not," said Ryan Petz, president of Fulton Brewery, the Minneapolis-based brewery that is making the beer.
Petz said the beer is also intended to tie his company to heritage of Minneapolis, which is also home to General Mills' headquarters. Fulton will consider making the beer more widely available depending on how people react to the initial run, he said.
Mike Siemienas, a General Mills spokesman, said the company left the development of the beer to Fulton. He declined to say whether the company plans to tap an athlete or celebrity to endorse the beer.
The companies also declined to disclose the financial terms of their agreement. But it could be one way General Mills counters struggling cereal sales, which have suffered as Americans increasingly reach for options like Greek yogurt or fast-food breakfast sandwiches in the morning.
Wheaties in particular has seen sales declines, and is a tiny part of General Mills' cereal business, said Jared Koerten, an analyst for market researcher Euromonitor International. Last year, sales of Wheaties in the U.S. were $19.5 million, according to Euromonitor. That's down from $63.7 million in 2006.
Koerten noted that Wheaties faces strong competition from other cereal "flakes" such as Kellogg's Raisin Bran, that promise some type of extra feature. By comparison, he noted that Wheaties are very plain.
___
Follow Candice Choi at www.twitter.com/candicechoi