California mudslides death toll rises, at least 20 killed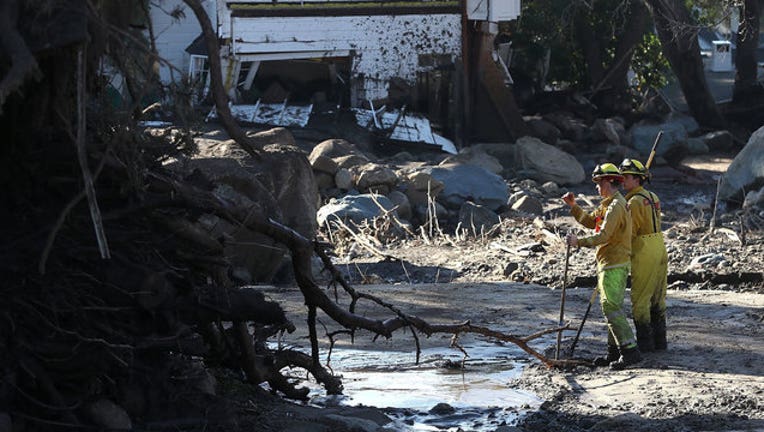 article
MONTECITO, Calif. (AP) - The death toll at the scene of devastating mudslides in a Southern California community rose to 20 Sunday as the list of those still missing shrunk to four.
Santa Barbara County spokesman Justin Cooper said authorities located a body but did not give any other information, only saying the coroner's office would identify the latest victim.
Recovery crews continue to slowly make progress digging away masses of mud, boulders and toppled trees in coastal Montecito. Officials said they've removed enough debris from creek canals to prevent another potential disaster when the next rainstorm hits.
Workers were using backhoes, jackhammers and chainsaws to clear the debris nearly a week after a powerful storm sent flash floods cascading through mountain slopes that were burned bare by a huge wildfire in December.
In addition to trying to find those who are still missing after Tuesday morning's storm, crews have made it a top priority to clear out debris basins and creek canals before another rainstorm. Long-range forecasts gave the crews about a week before the next chance of rain — and potential new mudslides — although the precipitation was expected to be disorganized and light. Another system was possible two days later.
"If we don't get those debris basins cleaned out, then we're not going to be prepared for the storm and we don't know what that storm is going to look like," said Robert Lewin, Santa Barbara County's emergency management director.
The mudslides ravaged the tony community, destroying at least 65 homes and damaging more than 460 others, officials said. Firefighters went door to door along several blocks, checking the structural integrity of the damaged homes.
The rest of the community's infrastructure was also damaged. Some streets were cracked in half and authorities closed bridges and overpasses because they were unstable.
"The bridges, the roads, they all need help," Lewin said.
Eight large excavators were being used to clear the debris from Montecito Creek, Tom Fayram, the deputy director of the county's flood control district, said.
"Two days ago I passed by an area where there was no creek and today I went by and the creek was fully restored," he said. "We are making great progress and we have several days before that next storm."
A candlelight vigil for the victims and an interfaith service is planned for 5 p.m. at the Santa Barbara County Courthouse Sunken Garden.
More than 2,000 searchers and recovery workers have remained in the community, carrying out backbreaking work in the summerlike weather that has made the stretch of Santa Barbara County coast about 90 miles (145 kilometers) northwest of Los Angeles a haven for the wealthy, celebrities and tourists.
Much of the community of about 9,000 remained under mandatory evacuation orders, even unscathed areas, as crews both removed debris and worked to restore water, sanitation, power and gas.