Civilians kill gunman after 3 shot at Oklahoma restaurant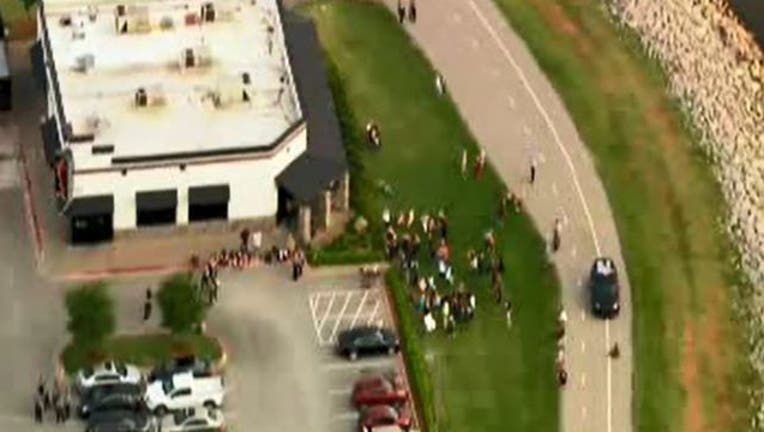 article
OKLAHOMA CITY (AP) -- A gunman opened fire inside an Oklahoma City restaurant during the dinner rush, wounding a woman and two girls before two armed citizens shot him dead outside, police said Friday.
The suspected gunman, 28-year-old Alexander Tilghman, was armed with a pistol when he entered Louie's On The Lake around 6:30 p.m. on Thursday. A 39-year-old woman and two juvenile girls were shot and wounded, while an unnamed man fell and broke his arm while fleeing, according to a statement from police.
Tilghman was then shot dead outside the restaurant by two citizens identified by police as Juan Carlos Nazario and Bryan Wittle.
All four victims were reported in good condition Friday, according to Oklahoma City police Capt. Bo Mathews. A suspected motive for the shooting hasn't been released.
Dennis Will said his daughter and granddaughter were among those shot. Talking with reporters outside the hospital where the shooting victims were taken, Will said his daughter called him after the shooting and said they had been shot while entering the restaurant for a birthday dinner.
The Hal Smith Restaurant Group, which owns the restaurant, released a statement saying the restaurant will be closed Friday and counselors will be available to employees and customers.
"We are extremely thankful the situation didn't escalate further, and that injuries were not more widespread. However, our hearts are with the wounded during this incident," the statement read.
The statement referred other questions to police.
The National Rifle Association said in a tweet Friday that the shooting was an example of "how the best way to stop a bad guy with a gun is a good guy with a gun." The organization said it hopes the incident serves as a "wake-up call" for Republican Gov. Mary Fallin, who recently vetoed a so-called constitutional carry bill that would have allowed adults to carry firearms without a license or training in Oklahoma.
In April, a restaurant patron wrestled an assault-style rifle away from a gunman at a Waffle House in Nashville, Tennessee. Four people were killed in that shooting. Police have said there would have been far more casualties if it weren't for the patron's quick thinking.