Dangerous clinging jellyfish found creeping in waters off Jersey Shore
Beachgoers in New Jersey will have to add clinging jellyfish to the things to be aware of when heading out for a day of sand, surf and sunshine this summer.
FOX 29 Philadelphia reported that clinging jellyfish are mostly transparent with a single reddish-orange cross and 60 to 80 tentacles that can produce a "very potent" and severely painful sting, according to state officials.
Montclair State University professor Dr. Paul Bologna joined FOX Weather on Monday and said what's different with this type of jellyfish is that its sting may not be felt for hours after it latches onto your skin while wading in the water.
HOW TO TRACK YOUR BEACH'S WATER QUALITY
"So, these organisms have a variety of mechanisms that they work with," he said. "And the problem with them is that when, in fact, they're sort of stinging you, it's sort of a small sting initially."
But the clinging jellyfish have paralysis toxins that work through your system, he added.
"And it's usually hours later that somebody actually starts to feel those effects. The muscles start to tighten up," he added. "And then you've got, you know, hours later that they're really in incredible pain."
That's when the victims of the clinging jellyfish go to the hospital because they don't equate the pain with the jellyfish, he added.
FLESH-EATING BACTERIA, PLASTICS IN SARGASSUM MAY POSE 'TRIPLE THREAT' TO PUBLIC HEALTH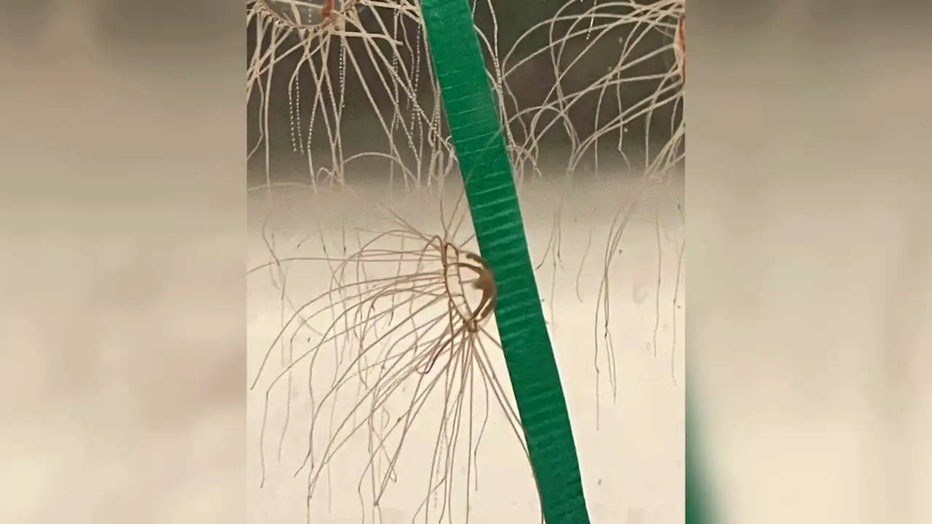 An image of a clinging jellyfish. (Dr. Paul Bologna / Montclair State University)
Where did clinging jellyfish come from?
Bologna said it's not understood how the clinging jellyfish made their way to the Jersey Shore and along the East Coast.
"Some of our genetic data says that they look very similar to the ones that invaded the Mediterranean, but this species has kind of gone global," Bologna said.
Bologna added that the clinging jellyfish have made their way to Cape May, New Jersey, but they can also be found along the coasts of New York, Connecticut, Rhode Island, Massachusetts and even Maine.
SEATTLE MAN PARALYZED BY ROGUE WAVE IN MEXICO HAS LONG ROAD TO RECOVERY: 'EVAN IS A FIGHTER'
"So, this is a potential problem for a lot of the Northeast coast," he said.
Bologna said that the jellyfish will begin to die off when the water temperatures rise to about 82 degrees.
"But those waters don't necessarily get that warm up in Connecticut and Rhode Island," he said. "And several years ago in Rhode Island in August, they had, I think, 18 to 20 people that headed to the emergency room because of the stings."
Bologna said studying these jellyfish and their toxins could help research new ways to fight cancer or other diseases.
But, he added, going out and making surveys of the jellyfish is a great way to get important information out to the public.
"So, it helps us sort of work with public safety to ensure sort of safety at our coastlines," Bologna said.
And if you're at the beach and spot one of these clinging jellyfish, you can report it on the New Jersey Jellyspotters Facebook page.