Crocs releasing new classic cowboy boots to celebrate 'Croctober'
Crocs are known for its bold and creative designs, which have gained popularity with consumers through the years. But the company's latest offering may be its most innovative product to date. 
The Colorado-based footwear company is unveiling its new Crocs Classic Cowboy boot to celebrate "Croctober" on October 23. 
This new black and white boot features a high shine embroidered texture with a western-inspired stitching complimented by metallic Jibbitz charms and a first-of-its-kind spin-able spur charm on the backstrap of the shoe as the crocodile mascot is displayed with his own cowboy hat.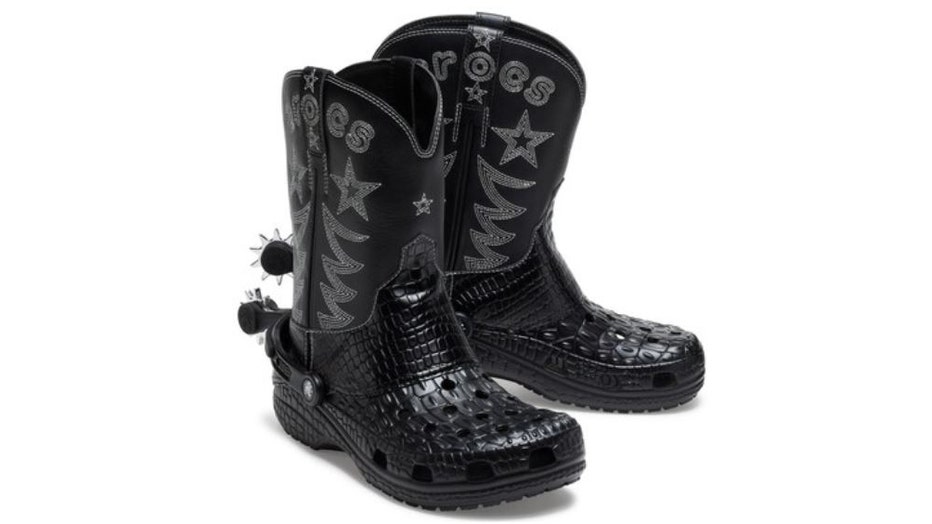 Crocs classic cowboy boots. (Photo courtesy of Crocs, Inc.)
RELATED: Hershey and Crocs team up for sweet shoe collaboration just in time for Halloween
Fans can get their hands on a pair of the new boots beginning October 23 for a limited time at Crocs.com and in select Crocs stores, according to a company release. 
The October 23 release date is symbolic because it's a fan-created holiday called "Croc Day."
"It's the most wonderful time of the year – Croctober – a time to celebrate the most imaginative fans in the world and this year is no exception," Heidi Cooley, chief marketing officer at Crocs, said in a company statement. "Croc Day was born by our fans so we couldn't think of a better way to celebrate them than by bringing their ideas to life not just for one day, but all month long. At Crocs, we stan our fans!"
A buzz and demand for a Croc-inspired cowboy boot began growing, leading to a fan-driven movement on social media, the company shared in a release. 
An announcement of the cowboy boot launch comes after Crocs and the Hershey Company teamed up for a new, limited-edition Crocs clogs with Hershey chocolate bars and Reese's Peanut Butter Cup styles, which debuted on Sept. 29. 
This story was reported from Washington, D.C.