Edison Police Officer receives letters from local children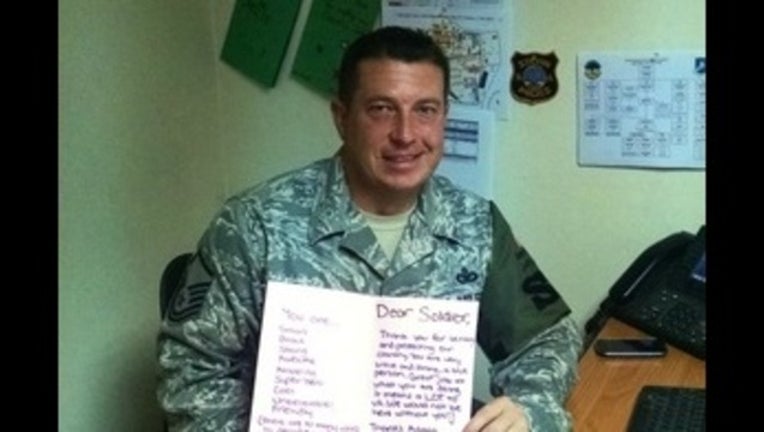 article
Edison Patrolman David Tingle, a 13-year veteran of the police department, is on his third deployment overseas since 9/11.
https://www.tapinto.net/towns/edison/articles/edison-police-officer-receives-letters-from-local#
Tingle is a Security Forces Master Sergeant with the U.S. Air Force Reserves assigned to 332d Expeditionary Security Forces Squadron at Ahmed Al Jaber Air Base, Kuwait. The 332d traces its Air Force lineage back to the Tuskegee Airmen, better known by their nickname, "Red Tails."
MSgt. Tingle is serving as the Logistics Superintendent for a Joint Air Force/Marine Security Forces Unit in support of Operation Inherent Resolve.
When a soldier, sailor, airman or Marine like MSgt Tingle are deployed far from home, many school children write letters to thank them for their service and protecting our country.
Recently, MSgt Tingle received letters from children of Edison Township employees who came to town hall and participated in bring your child to work day.
Bring your child to work was the organized by Edison Township Community Relations Assistant, Dan Ligato-Grego. Among the different activities the children participated in was a service project where children make cards and write little inspirational notes inside to send to deployed troops.
In addition to the cards, Ligato-Grego raises money, asks for other donations and then goes to shopping to buy items to make care packages for deployed troops. The money also pays for postage.
"When I received the care packages and read through each one of the cards, it made me realize why I do what I do," Tingle said. "Some of the cards had pictures and sayings like, 'Have you smiled today?', 'Thank you for all you do', 'Thank you for keeping America safe' and 'Get home Safe',"
MSgt Tingle shared the packages and letters with his troops and they expressed the same appreciate as he did.
"Most of the letters with American flags drawn on them, gave me a sense of pride knowing our troops are not forgotten," MSgt Tingle added. "The sacrifice made by my wife and kids is much greater than the sacrifice I'm making being deployed and I want to thank them also."
"It brings me so much joy to be able to do this for them (the troops)," Ligato-Grego said. "It is a little extra special when it's someone you know."
In the picture of MSgt Tingle in his office is the Edison Police Department patch hanging on the wall.
"Thank you Dana Ligato and all Edison Township employees who participated in Bring Your Child to Work Day," Tingle said.