Texas gunman in Walmart shooting gets 90 consecutive life sentences but may still face death penalty
EL PASO, Texas (AP) — A white gunman who killed 23 people in a racist attack on Hispanic shoppers at a Walmart in a Texas border city was sentenced Friday to 90 consecutive life sentences but could still face more punishment, including the death penalty.
Patrick Crusius, 24, pleaded guilty earlier this year to nearly 50 federal hate crime charges in the 2019 mass shooting in El Paso, making it one of the U.S. government's largest hate crime cases.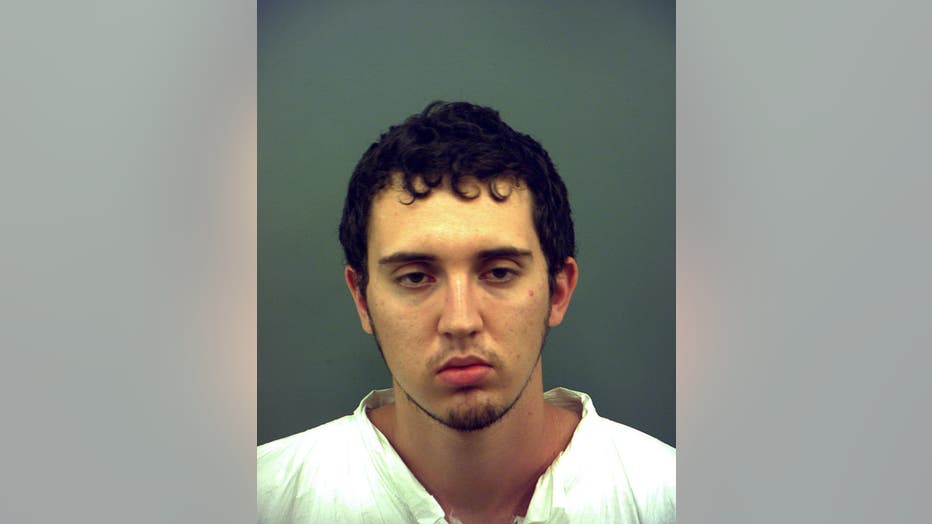 EL PASO, TX - AUGUST 4: In this handout photo provided by the El Paso Police Department, Patrick Crusius, 21, poses for a booking photo August 4, 2019 in El Paso, Texas. Crusius is charged with capital murder in the shooting deaths of 22 people at an
Crusius, wearing a jumpsuit and shackles, showed no visible reaction as the verdict was read.
Police say Crusius drove more than 700 miles from his home near Dallas to target Hispanics with an AK-style rifle inside and outside the store. Moments before the attack began, Crusius posted a racist screed online that warned of a Hispanic "invasion" of Texas.
In the years since the shooting, Republicans have described migrants crossing the southern U.S. border as an "invasion," waving off critics who say the rhetoric fuels anti-immigrant views and violence.
Crusius pleaded guilty in February after federal prosecutors took the death penalty off the table. But Texas prosecutors have said they will try to put Crusius on death row when he stands trial in state court. That trial date has not yet been set.
Joe Spencer, Crusius' attorney, told the judge before the sentencing that his client had a "broken brain" and that he had lost touch with reality.
"Patrick's thinking is at odds with reality … resulting in delusional thinking," Spencer told the court.
The sentencing by U.S. District Judge David Guaderrama in El Paso followed two days of impact statements from relatives of the victims, including citizens of Mexico. In addition to the dead, more than two dozen people were injured and numerous others were severely traumatized as they hid or fled.
One by one, family members used their first opportunity since the shooting to directly address Crusius, describing how their lives have been upended by grief and pain. Some forgave Crusius. One man displayed photographs of his slain father, insisting that the gunman look at them.
Bertha Benavides' husband of 34 years, Arturo, was among those killed.
"You left children without their parents, you left spouses without their spouses, and we still need them," she told Crusius.
During the initial statements from victims, Crusius occasionally swiveled in his seat or bobbed his head with little sign of emotion. On Thursday, his eyes appeared to well up as victims condemned the brutality of the shootings and demanded Crusius respond and account for his actions. At one point, Crusius consulted with a defense attorney at his side and gestured that he would not answer.
Crusius' family did not appear in the courtroom during the sentencing phase.
The attack was the deadliest of a dozen mass shootings in the U.S. linked to hate crimes since 2006, according to a database compiled by The Associated Press, USA Today and Northeastern University.
Before the shooting, Crusius had appeared consumed by the nation's immigration debate, tweeting #BuildtheWall and posts that praised then-President Donald Trump's hardline border policies. He went further in his rant posted before the attack, sounding warnings that Hispanics were going to take over the government and economy.
As the sentencing phase got underway, some advocates for immigrant rights made new appeals for politicians to soften their rhetoric on immigration. Republicans, including Texas Gov. Greg Abbott, have pushed for more aggressive actions to harden the southern U.S. border.
Amaris Vega's aunt was killed in the attack and her mother narrowly survived a softball-sized wound to the chest. In court, Vega railed at Crusius' "pathetic, sorry manifesto" that promised to rid Texas of Hispanics.
"But guess what? You didn't. You failed," she told him. "We are still here and we are not going anywhere. And for four years you have been stuck in a city full of Hispanics. ... So let that sink in."
Margaret Juarez, whose 90-year-old father was slain in the attack and whose mother was wounded but survived, said she found it ironic that Crusius was set to spend his life in prison among inmates from racial and ethnic minorities. Other relatives and survivors in the courtroom applauded as she celebrated their liberty.
"Swim in the waters of prison," she told Crusius. "Now we're going to enjoy the sunshine. … We still have our freedom, in our country."
The people who were killed ranged in age from a 15-year-old high school athlete to several elderly grandparents. They included immigrants, a retired city bus driver, teachers, tradesmen including a former iron worker, and several Mexican nationals who had crossed the U.S. border on routine shopping trips.
Two teenage girls recounted their narrow escape from Crusius' rampage as they participated in a fundraiser for their youth soccer team outside the store. Parents were wounded and the soccer coach, Guillermo Garcia, died months later from injuries in the attack.
Both youths said they still are haunted by their fear of another shooting when they are in public venues.
"He was shot at close range by a coward and there was his innocent blood, everywhere," said Kathleen Johnson, whose husband David was among the victims. "I don't know when I'll be the same. … The pain you have caused is indescribable."
___
Weber reported from Austin.