ESPN: Case Keenum plans to sign with Broncos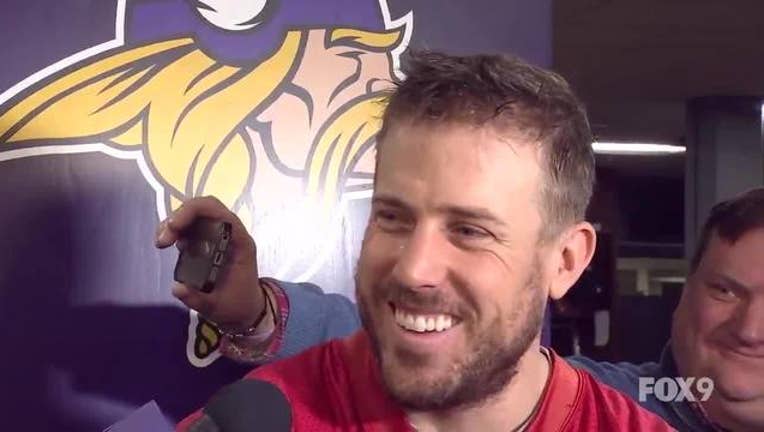 article
DENVER (AP) - John Elway is looking to free agency for his fix at quarterback following a season in which all three of his drafted QBs fell flat in Denver.
After sitting out the playoffs in each of the last two years following their Super Bowl 50 triumph, the Broncos have apparently found their next signal-caller. Case Keenum plans to sign with Denver when free agency opens Wednesday, ESPN reported early Tuesday.
That would leave the Vikings, Cardinals and Jets vying to land ex-Washington Redskins quarterback Kirk Cousins, who is expected to sign a record-breaking contract this week.
The 30-year-old Keenum is considered the second-best QB available on the open market. He guided Minnesota to the NFC championship game after replacing an injured Sam Bradford last season.
Keenum went 11-3 with 3,547 yards passing, 22 touchdowns and seven interceptions and threw that last-second heave to Stefon Diggs to stun the New Orleans Saints 29-24 in the playoffs.
The Vikings, who were subsequently blown out at Philadelphia in the conference championship, decided to let all three of their QBs -- Keenum, Bradford and Teddy Bridgewater -- test free agency. 
With a sparkling new stadium, stacked roster and head coaching stability, the Vikings jumped to the head of the line of potential suitors for Cousins.
The Broncos, who own the fifth pick in next month's NFL draft, also considered Cousins following a 5-11 season in which Trevor Siemian, Brock Osweiler and Paxton Lynch all struggled behind a porous offensive line and questionable play-calling before Mike McCoy was replaced by Bill Musgrave as offensive coordinator.
All three quarterbacks were draft picks by Elway, the Hall of Fame quarterback who has only had success at quarterback in free agency.
Six years ago, Elway landed Peyton Manning, the biggest free agent prize in NFL history, following his release by the Colts and a series of neck fusion surgeries. 
Manning had a spectacular closing chapter in Denver, leading the Broncos to the playoffs in all four of his seasons, reaching two Super Bowls and winning one. 
Manning retired a month after Denver's 24-10 win over Carolina in Super Bowl 50, and Elway brought in veteran Mark Sanchez, then moved up to grab Lynch in the first round of the draft.
But it was Siemian, a seventh-rounder from Northwestern, who emerged as Manning's surprise successor in 2016.
Gary Kubiak stepped down as head coach over health concerns following a 9-7 season that ended the Broncos' five-year playoff run.
Keenum is a player the Broncos know well because Kubiak, now the Broncos' senior personnel adviser, coached him for two seasons while he was head coach of the Houston Texans.
Keenum would have veterans Demaryius Thomas and Emmanuel Sanders as his targets in Denver after Elway chose not to release either of the expensive wide receivers.