Family donates organs of boy killed in freak accident playing basketball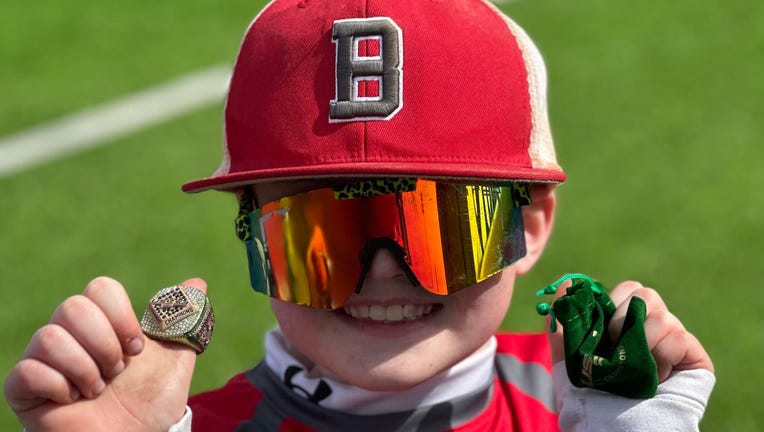 article
CORBIN, Ky. -  Intuitive. Compassionate. Kind and heartfelt.
Those are just a few words Ashley and Adam Hill use to describe their 8-year-old son, Eli, who died after a freak accident while playing basketball at his home in Corbin, Kentucky.
"He loved God and his church family," Ashley told FOX Television Stations. "Eli read his Bible, and his example encouraged his friends to read theirs, too."
According to the Fayette County coroner, Eli passed away Monday.
Pictures of Eli with family and friends.  (Ashley Hill)
"Eli was playing basketball in the driveway yesterday around 5," Ashley explained. "He pulled a chair over to the rim and was trying to 'dunk' on the goal."
RELATED: Watch: Paralyzed deputy regains movement, walks daughter down the aisle
"The whole backboard and rim came down on him, and he died of blunt force trauma to the chest," she continued.
Since his passing, several people have posted condolences on social media. Ashley said her son enjoyed doing activities such as playing basketball and baseball, riding his bike, eating popcorn and video chatting with friends.
The mother said before her son's death, Eli recently became the catcher for the local youth baseball team, the Corbin Bombers.  
"We are devastated at the loss of our Eli," Ashley added. "He was extraordinary in so many ways."
RELATED: Kentucky woman with over 230 great-great-grandchildren meets great-great-great-grandchild: See the photo
Even more extraordinary, the family is making sure Eli's memories live on by donating his organs. Eli's family has already donated his heart, corneas, and lower extremity tissues.
"We are comforted to know that he will live on in this way, and we are comforted to know this is his legacy," Ashley added. "We knew Eli was loved, but we didn't realize his impact. He was destined for greatness."
This story was reported from Los Angeles.