Georgetown adviser resigns over tweet 'Wishing you a #metoo moment' at conservative female blogger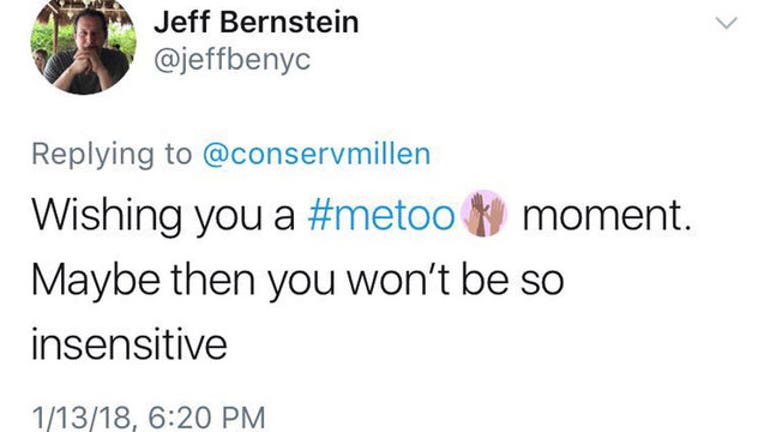 article
WASHINGTON - A Georgetown University adviser came under fire after telling a conservative female commentator he hoped she would have her own "#metoo moment," wishing she would experience sexual harassment or assault.
Jeffrey Bernstein, who was a Master of Foreign Service advisory board member at Georgetown, resigned from his post after he got into a heated Twitter exchange with CRTV host Allie Stuckey, who said the #metoo social media movement to expose systemic sex abuse was a symptom of a broken world, not a broken legal system.
"Wishing you a #metoo movement," Bernstein tweeted on Saturday. "Maybe then you won't be so insensitive."
Stuckey immediately fired back. She tweeted Georgetown a screenshot of his tweet and wrote: "Someone on your MSFS board just told me he hopes I get sexually harassed or assaulted…Is this the kind of standard your university holds for your advisers?"
On Monday morning, Georgetown Dean Joel Hellman released a statement saying Bernstein had cut ties with the university.
"Encouraging, threatening or condoning violence and harassment against another person, in any form and on any format, is deeply inconsistent with the values of the program, our school and our university."
"We appreciate Mr. Bernstein's efforts to apologize for recent comments deeply inconsistent with our values and mission and have accepted his resignation from the MSFS Board of Advisors. MSFS will continue its dedication to preparing women and men for leadership roles in global affairs."
Read more at FoxNews.com