German Chancellor Angela Merkel sees tough G7 talks, warns on trade issues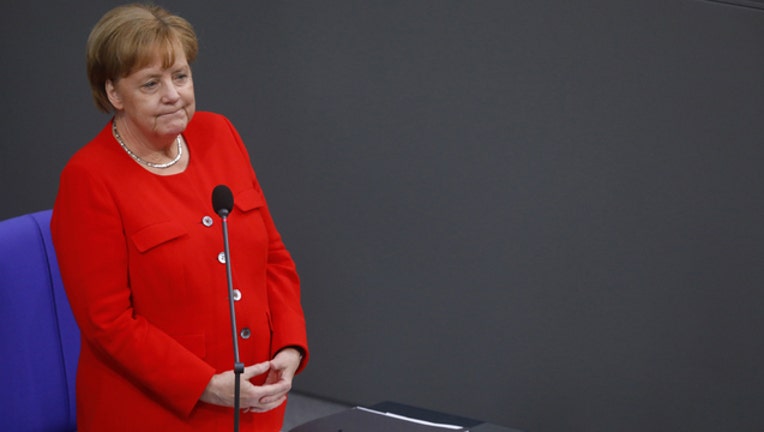 article
BERLIN - (AP) — German Chancellor Angela Merkel on Wednesday predicted difficult talks at the Group of Seven summit, warning that there is "no sense in papering over divisions" on issues such as trade.
The group of Western powers meets in Canada on Friday and Saturday amid growing tensions between the U.S. and its allies after Washington announced its withdrawal from the Paris climate accord and the Iran nuclear agreement, and slapped steel and aluminum tariffs on its traditional partners.
"It is apparent that we have a serious problem with multilateral agreements here, and so there will be contentious discussions," Merkel said as she addressed her first question time in the German parliament, a format introduced by the governing coalition that took office in March.
She said Germany will work at least to preserve what was agreed on at last year's G-7 and Group of 20 summits on trade and climate.
"I will go in with good will," Merkel said.
She added, however, that "we must not keep watering down" previous summit conclusions committing the G-7 countries to fair multilateral trade and rejecting protectionism.
"There must not be a compromise simply for the sake of a compromise," she said. If an acceptable agreement can't be reached, a "chairman's summary" by the Canadian hosts "is perhaps a more honest path — there is no sense in papering over divisions at will."
Merkel said she will try to discuss problems such as Iran and tariffs with President Donald Trump.
Merkel was asked by lawmakers from the nationalist Alternative for Germany, or AfD, and hard-left Left Party whether it wouldn't make sense to talk more with Russia. AfD lawmaker Michael Espendiller asked whether the G-8 format including Russia, which was thrown out after Moscow's annexation of Crimea from Ukraine, should be revived.
Merkel responded that the G-7 is defined by its members' respect of international law and Russia's annexation of Crimea in 2014 was a "flagrant breach" of that. She said Russia's removal was "unavoidable."
She also noted that Germany has sought to keep in frequent contact with Russia, but said "a format that is explicitly based on respecting international law is not viable for Russia at present."
German chancellors haven't previously interacted directly with lawmakers in the same way British prime ministers do at their weekly question time.
Merkel will now face questions three times a year, though some opposition lawmakers say the format is too inflexible.
At Wednesday's roughly one-hour session, questions and answers were kept to a maximum of a minute each, with no follow-up questions, and the calm but concentrated atmosphere was far from the lively question time in London.
There were few personal attacks during the session, which addressed issues ranging from diesel emissions to the number of women in parliament.
AfD, however, sought to assail Merkel over the influx of more than a million migrants to Germany in 2015 and 2016. Lawmaker Gottfried Curio accused the chancellor of being responsible for "the import of Islamists" and "endless human suffering at the hands of rapists and murderers."
"When will you resign?" he asked.
Merkel calmly replied that "in an exceptional humanitarian situation, Germany behaved very responsibly."
Quizzed by the pro-business Free Democrats about plans for a European Monetary Fund that would lend money to struggling eurozone nations, Merkel said she sees "no watering-down in the culture" of Germany's policy that help will always come with strings attached.
"It's over," a smiling Merkel said as speaker Wolfgang Schaeuble ended the session. But "I'll come back."