'God must have put you in my car!': Uber driver donates kidney to passenger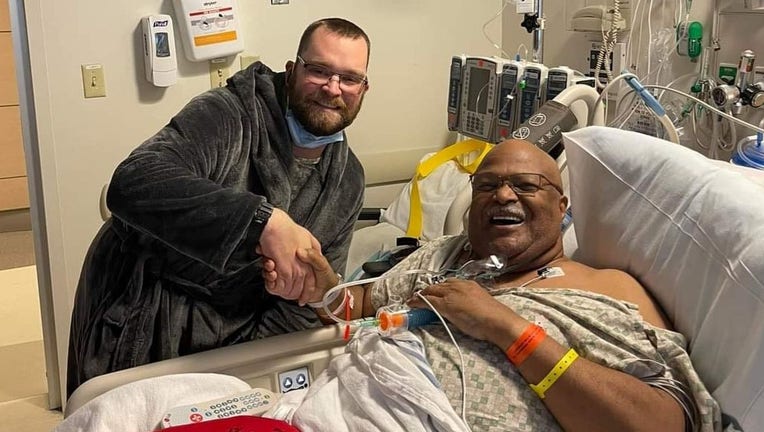 article
SALEM, N.J. - When William Sumiel Jr. called for an Uber ride in 2021, little did he know that it would be life-saving.
The 73-year-old New Jersey man said he received a kidney donation from his driver, 33-year-old Tim Letts.
Sumiel said in October 2021, he was catching an Uber from a medical appointment in Vineland to his home in Salem, about a 40-minute drive.
"I introduced myself to the Uber driver and we started a general conversation," Sumiel told FOX Television Stations. "I told him the procedure I had just had and mentioned the trying effects of dialysis."
RELATED: Grandma's teeth, pet ashes: Uber releases 2022 lost and found index
Sumiel said he told Letts that he was on the transplant list for a kidney after being diagnosed with type II diabetes about 30 years ago.
"My kidney functions started becoming less and less," Sumiel continued.
That's when Letts said something to Sumiel he would never forget.
"He told me, 'God must have put you in my car!'" Sumiel continued. "When he pulled in front of my home, he said, 'If you'll take my name and number, I'd like to donate a kidney to you.'"
Several weeks later, Letts informed Sumiel he was a match and donated his kidney in December 2021.
RELATED: Uber driver stranded on I-95 buys teen passenger hotel room, offered new job
"I was inspired by how genuine this man was," Letts told Town Square Delaware. "He was happy. He was kind and you could tell he was suffering, but he didn't let that fact protrude."
Sumiel said since the surgery he has felt "excited; elated, fortunate, blessed, HAPPY!"
Sumiel said he hasn't seen Letts since the surgery mainly because Letts had moved to Germany.
"We stay in touch through phone calls, text messages and email," Sumiel said. "We deal with a 6 hour time difference also."
This story was reported from Los Angeles.