Hollywood Walk of Fame star honors the late Steve Irwin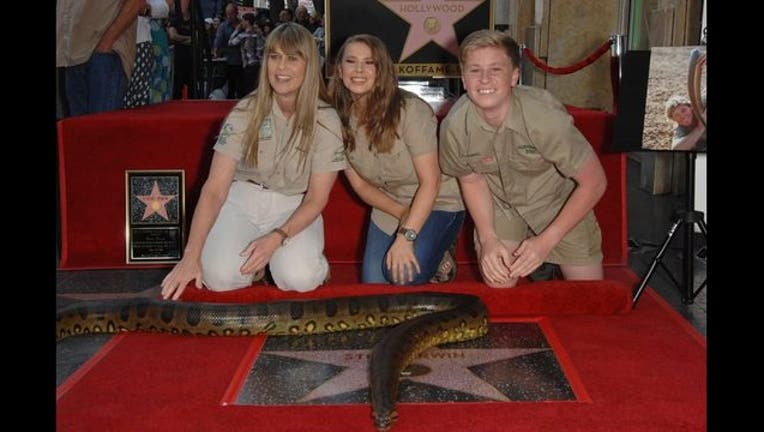 article
HOLLYWOOD, Calif. (FOX 11 / CNS) - Wildlife advocate Steve Irwin, the exuberant host of the 1996-2007 Animal Planet documentary series ``The Crocodile Hunter,'' was posthumously honored Thursday with a star on the Hollywood Walk of Fame.
Irwin's wife and two children accepted the star on his behalf. The star for Irwin, known for his love of reptiles and penchant for wrangling crocodiles, is fittingly located in front of the Iguana Vintage Store.
``I have to tell you, every single day was like being in the middle of a cyclone,'' Irwin's wife, Terri, said of life with her energy-laden husband. ``It was incredible. We never knew where we were gonna go or what we were gonna do. He'd run in and he'd say, `There's been a whale stranding. We're leaving in an hour. We'll be gone three weeks.' And you'd just go, `OK.'''
The ceremony unveiling the 2,635th star on the Walk of Fame was held nine days before the Steve Irwin Gala Dinner at the SLS Hotel Beverly Hills, celebrating his passion for wildlife and wild places.
Irwin was born Feb. 22, 1962, in Ferntree Gully, a suburb of Melbourne, Australia. His parents later moved to Beerwah, Queensland, where they opened the Beerwah Reptile and Fauna Park in 1970.
Irwin grew up loving all wildlife, especially reptiles. He caught his first venomous snake, a common brown, when he was 6 years old. He would often arrive late to school after persuading his mother to pull over so he could rescue a lizard off the road.
By the time he was 9 years old, Irwin was helping his father catch small problem crocodiles hanging around boat ramps by jumping on them in the water and wrestling them back into the dinghy.
By 1980, the family wildlife park was called the Queensland Reptile and Fauna Park. Irwin worked countless hours caring for the wildlife and maintaining the grounds.
In the 1980s, Irwin spent months on end living in the most remote areas of far North Queensland, catching problem crocodiles. He worked with his dog, Sui, and developed crocodile capture and management techniques that are now utilized with crocodilians around the world.
Irwin took over managing the wildlife park in 1991. A few months later, he met Terri Raines, a visiting tourist. In June 1992, they were married in Eugene, Oregon.
Instead of a honeymoon, the couple embarked on filming a wildlife documentary, which led to``The Crocodile Hunter,'' which the couple hosted. It was syndicated in many nations and received a Daytime Emmy Award nomination in 2000 for outstanding children's series.
Irwin died Sept. 4 2006 at Batt Reef, near Port Douglas in Queensland when he was stabbed in the heart by a stingray.
Copyright 2018 FOX 11 Los Angeles: Download our mobile app for breaking news alerts or to watch FOX 11 News | Follow us on Facebook, Twitter, Instagram and YouTube.