HOLY SNAKES! Woman finds ball of serpents along greenway trail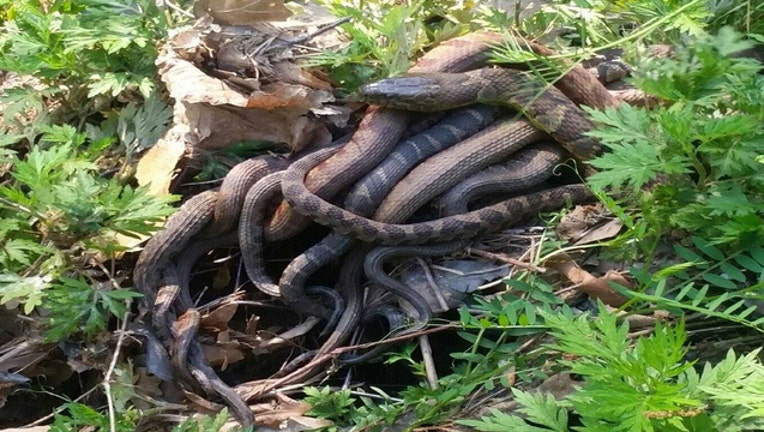 article
CHARLOTTE, NC (FOX 46) - A local woman is sending a warning after coming across a ball of snakes while walking along the Little Sugar Creek Greenway Monday. 
Christine Proffitt tweeted out a photo of what appears to be a mating ball of water snakes along the Greenway with the message: "Watch out on the greenway today guys."
Proffitt tells FOX 46 Charlotte the photo was taken about 10 a.m. along the Greenway near the Presley Uptown Luxury Apartments in Charlotte's Midtown area. 
"It scared me, but you know how this generation is, the first thing I did was take a picture...and then I ran," Proffitt joked.
According to reptile experts, the giant ball indicates mating. There are roughly 37 snake species native to North Carolina. The good news is only six of them are venomous. 
GALLERY: Snakes come out to play in North Carolina
This isn't the first time snakes have slithered their way into the headlines. Just a few days ago an Indian Trail woman was left screaming after finding a black rat snake in her bathroom. The serpent managed to slink its way into her bedroom while she called for help.
Related: Surprise! Black rat snake in the bathroom
In fact, one of the largest water snakes an expert had ever heard of, 5 and a half feet, was found just last summer off Lake Norman.
Related: Large snake found in Lake Norman
Video of a snake eating a catfish along a North Carolina shoreline also hit Facebook's trending list in Charlotte. 
Related: Video: Snake east catfish at North Carolina Park
Check out other cool pictures of snakes here: