Hundreds of students leave school, walk to shooting site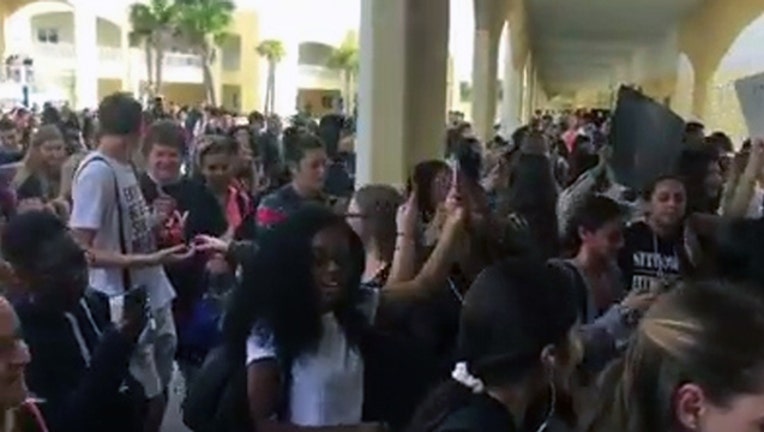 article
PARKLAND, Fla. (AP) - Hundreds of students walked out of their Florida high school Tuesday and made their way to the site of a school shooting about 10 miles (16 kilometers) away in a show of solidarity for bringing an end to gun violence.
"It has to be tougher. People are blaming it that he has mental illness, but it's not only that. You have to understand that he can go and get a weapon of mass destruction before he can go and get a beer at a bar. That's not OK," said a sweaty Isaac Louden, who locked arms with a handful of West Boca High classmates as he walked the final steps to Marjory Stoneman Douglas High and was met with a roar of cheers from waiting students.
The event started as a moment of silence inside the school for the 17 students and teachers killed last week, but the West Boca students refused to end it there. They pushed aside police blocking the front of the school and a sea of students ran out.
"The emotion and the adrenalin was just so big in the atmosphere that we all decided to just keep walking," said Candace Taylor, a 14-year-old freshman.
Along the way, students chanted "MSD Strong," and "we want change; we want peace." Many held signs calling for stricter gun laws and others smeared red paint under their eyes to honor the school colors at Douglas High.
Several schools across Florida and the country have held similar walkouts in the wake of the shooting. Earlier Tuesday, Stoneman Douglas shooting survivors boarded a bus for Tallahassee to call for gun reform.
The walk took Tiffany Bogert and her friends about three hours. Along the way she thought about "how much I want change,'" the 15-year-old West Boca freshman said. She held a sign that read, "My life is more important than your guns."
The students ended at a makeshift memorial with 17 white crosses, flowers and other tokens outside Stoneman Douglas. They were eventually put on buses and escorted back to campus by police.
"This is just a start. I feel like our school isn't going to stop until there's change. ... It could've been us," West Boca sophomore Reanna Locke said. "I shouldn't have to be afraid to go to school. ... I shouldn't feel like I'm in class, and one of my classmates is going to pull out a gun and shoot me."