I-95 collapse to send ripple effect through East Coast: 'This is not just a commuter challenge'
A heavily traveled segment of I-95 remains closed indefinitely in Philadelphia after an elevated section collapsed over the weekend following damage caused by a tanker truck crash. 
LiveNOW from FOX spoke with Mark Fusetti, a retired police sergeant, who happened to be driving on the fiery section of I-95 Sunday morning moments before the collapse. 
Fusetti saw dark, black smoke begin to consume the roadway ahead of him and assumed it was coming from a car fire down below. 
"I did see an opening (in the smoke) where I could drive through and look safely, which I did. And as I drove through, you felt this major bump on the road," he described.
He shared video with LiveNOW from the scene, where Fusetti's vehicle can be seen going through a clearing in the smoke. 
"After I go through, I look in my rearview mirror and I see that's where all the cars stopped and that's where I'm told, unofficially, where the highway collapsed right after."
Fusetti said that area of I-95 was already under construction, so he didn't think much when going over the big bump, but that he was in disbelief when he heard what had happened. 
RELATED: Philadelphia I-95 collapse: What you need to know about the damaged highway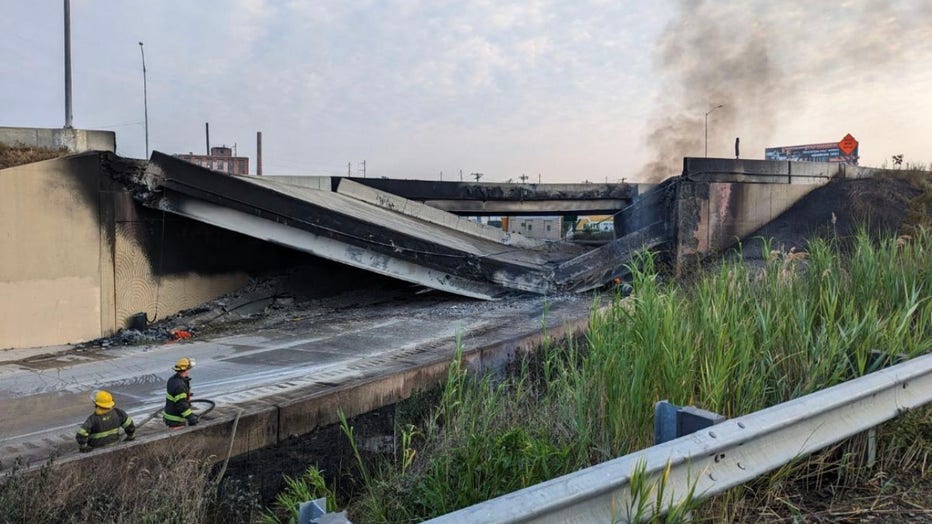 In this handout photo provided by the City of Philadelphia Office of Emergency Management, smoke rises from a collapsed section of the I-95 highway on June 11, 2023 in Philadelphia, Pennsylvania. (Photo by City of Philadelphia Office of Emergency Man
Officials said the tanker contained a petroleum product that may have been hundreds of gallons of gasoline. The fire took about an hour to get under control.
The northbound lanes of I-95 were gone and the southbound lanes were "compromised" by heat from the fire, said Derek Bowmer, battalion chief of the Philadelphia Fire Department.
"I think the one question I have and again, this is because I have no idea and no one has said anything in the last 24 hours - is this normal?" Fusetti said to LiveNOW. "Can a tanker truck full of fuel cause this much devastation and destruction?"
RELATED: Was I-95 collapse preventable? Engineering expert explains how the disaster happened
Drivers began the 43-mile-longer commute Monday with no end in sight for the detour, which is expected to cause delays to be felt throughout the region. 
"This is really going to have a ripple effect throughout the region," AAA spokesperson Jana Tidwell told LiveNOW. The portion of I-95 that is closed is a heavily traveled segment of the East Coast's main north-south highway.
"It sees major traffic volume on a daily basis, not just daily commuters, but this is the road traveled by tourists, those on their summer road trips – this is the artery you would take to get there," Tidwell continued. "And, of course, commerce – tractor trailers and delivery trucks."
"This is not just a commuter challenge here, this is going to have a ripple effect throughout the region for weeks and months to come as people navigate a new normal."
Miraculously, there were no injuries to people driving on I-95 at the time of the fire, but officials did confirm that the truck involved is currently trapped under the debris and they are still working to identify the driver, or anyone else in that vehicle caught in the fire and collapse.
Pennsylvania Gov. Josh Shapiro has issued a disaster emergency in the county, and the National Transportation Safety Board will be conducting a safety inspection at the sight of the crash. 
The Associated Press contributed to this report.