JetBlue restricting support animals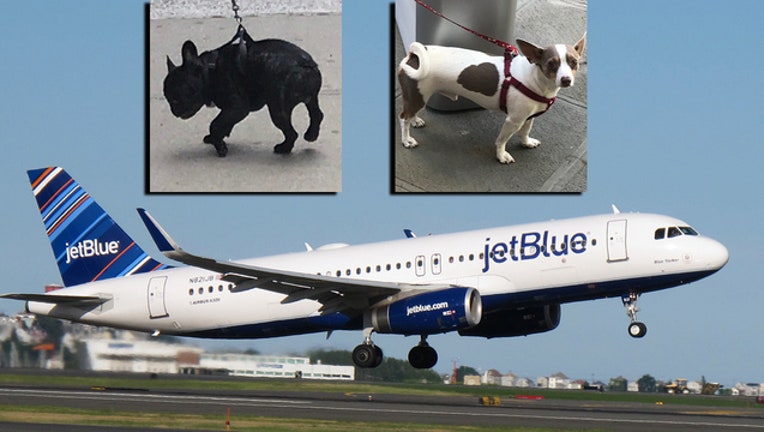 NEW YORK (AP) — JetBlue is joining the pack of airlines that are making it harder for passengers to bring emotional-support animals on board.
JetBlue announced Tuesday that starting July 1 it will require those customers to submit forms from a veterinarian vouching for the animal's fitness and vaccinations.
Customers will have to tell JetBlue 48 hours in advance if they will be traveling with a support animal. And they must accept liability if the animal hurts someone or damages property.
The liability clause is similar to one at United Airlines and tougher than wording on American and Delta forms.
Unlike service animals such as guide dogs, support animals need no special training. Airline pet fees are waived for support animals, and their numbers have soared. The government is considering new restrictions.
FROM JETBLUE: Updated requirements for emotional support and psychiatric service animals
JetBlue accepts only dogs, cats, and miniature horses as emotional support or psychiatric service animals and limits such permitted animals to one (1) per customer. Customers flying on or after July 1, 2018, must notify JetBlue of their intent to travel with emotional support or psychiatric service animal on their flight and must download, complete, and submit the following three documents online at least 48 hours in advance.
1. Medical/Mental Health Professional Form - This document must be completed by the professional currently providing the Customer's mental health care and who prescribes the emotional support or psychiatric service animal.
2. Veterinary Health Form – This document must be completed by a veterinarian detailing and attesting to the animal's vaccination records and fitness to fly. 
3. Confirmation of Animal Behavior Form – This document is a signed customer confirmation affirming the emotional support or psychiatric service animal is trained to behave appropriately in public and that the owner accepts all liability for any injuries or damage to property.