Krispy Kreme will give students free doughnuts for A's on report card
At Krispy Kreme, it pays to get A's. 
Many U.S. locations of the doughnut chain provide free doughnuts to students who receive A letter grades. Customers just need to show their report card, and they can get one free treat for each A – no purchase necessary, according to the company. 
In fact, the student can often get up to six free doughnuts, according to multiple reports.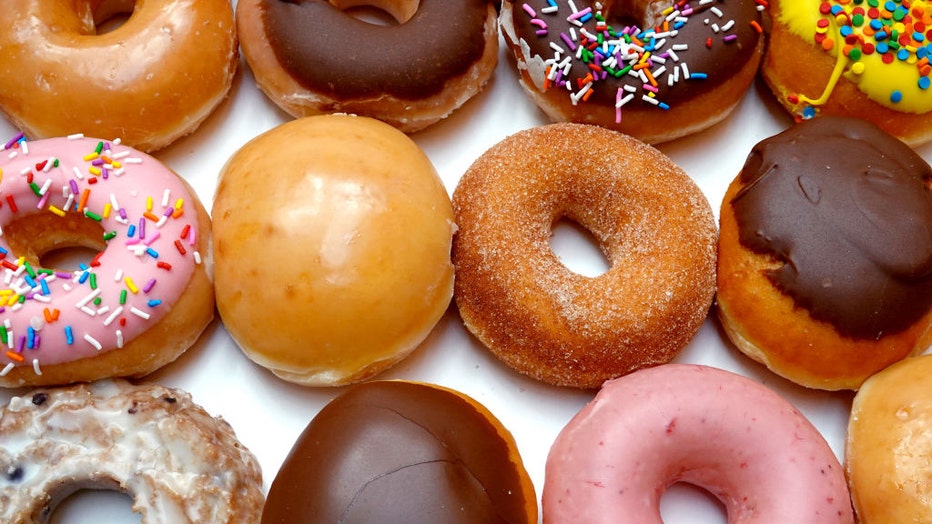 FILE - Doughnuts are sold at a Krispy Kreme store on May 5, 2021, in Chicago, Illinois. (Photo Illustration by Scott Olson/Getty Images)
The deal isn't new, but a video sharing the sweet offer has recently gone viral on TikTok by @jordan_the_stallion8. In the clip, the person responds to another user asking, "What's a piece of information that you learned that feels illegal to know?" 
@jordan_the_stallion8 then explains how he learned of the educational discount while working at Krispy Kreme. 
The chain confirmed the deal in a statement to FOX Television Stations, but noted how participation and offer limits vary by location. Customers are encouraged to check with their local Krispy Kreme to confirm the offer.
RELATED: Starbucks 'Pink Drink' hitting store shelves nationwide
On his part, the TikTok user also shared another possible "loophole" when it comes to the academic discount. 
"Working at Krispy Kreme I found out that we give free doughnuts to anybody who has 'A's on their report card, but the loophole is we are not allowed to ask you if you currently go to the school or not," he says in the video. "So if you show us a report card of any kind with an A on it we have to give you a doughnut."
"Do with that information what you will," the user adds.
RELATED: Krispy Kreme has new mini doughnuts for spring
This story was reported from Cincinnati.