Land O' Lakes mom sends warning after son stung by venomous caterpillar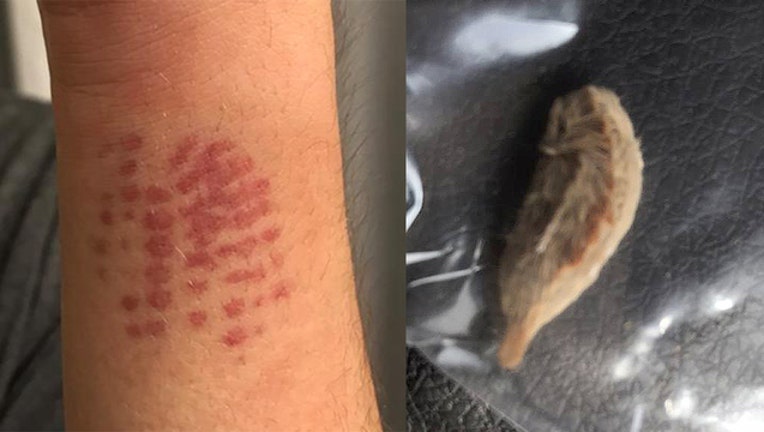 article
LAND O' LAKES (FOX 13) - A mom in Land O' Lakes is sounding the alarm after her son was stung by a venomous caterpillar. 
Andrea Pergola said she had never heard of the southern flannel moth caterpillar, but thanks to her "mom instinct," she rushed her son to the ER within about 30 minutes of the sting.
"I don't think I've ever posted a BE AWARE post before- but after today I think this is super important," Pergola posted on Facebook along with photos of the moth and her son's arm.
Pergola said she and her son were cleaning up yard debris when her son, Logan told her he felt a "sharp, stinging pain" in his arm. Then it went numb.
"Within 5 minutes he was dizzy, had lost color, was complaining of the worst pain he had ever felt & his eyes weren't super focused," Pergola wrote. "We tried to wash it off... He just looked really, really bad and kept looking worse."
Pergola said Logan's condition deteriorated quickly so she took him to the emergency room. He was lethargic, nauseous, and began to shiver. He didn't even fight the IV, "which would be the norm," she said.
Logan developed a rash on his arm, which Pergola says spread to his chest.
Pergola said Logan was stung by the moth at around 10:15 a.m. By 10:50, antivenin was being administered. 
"He was in and out of it and really just groaning and asking to make the pain stop," Pergola wrote. "The next 3 hours were pretty rough and while I had read that there had never been a death from the caterpillar I was also looking at my otherwise really healthy son wondering if maybe they were wrong."
Since Logan's brush with the southern flannel moth caterpillar, also known as the puss caterpillar or tree asp, Pergola learned it is one of the most venomous caterpillars in the U.S., according to the University of Florida.
The caterpillar and moth have a yellowish fur with black along its legs. It can be found in states from Florida to New Jersey and west to Texas and Arizona. They like to hang out on oak and elm trees, UF says.
PREVIOUS: Florida scientists: Don't touch this bug
Pergola shared a photo of the moth and of the rash on her son's arm.
"Each dot on his arm represents a place where he was stung- well over 20 injection sites. He is a healthy, strong, young man & it knocked him out. I can't even imagine a small child or elderly person. Please research this caterpillar, be aware of it & make your kids aware of it," Pergola wrote.
More information about the puss caterpillar can be found at: 
- http://edis.ifas.ufl.edu/in014
- http://entnemdept.ufl.edu/creatures/misc/moths/puss.htm 
- http://www.fox13news.com/health/poison-from-caterpillar-spines-hurts-worse-than-jellyfish-sting