Lyft offering free rides to March For Our Lives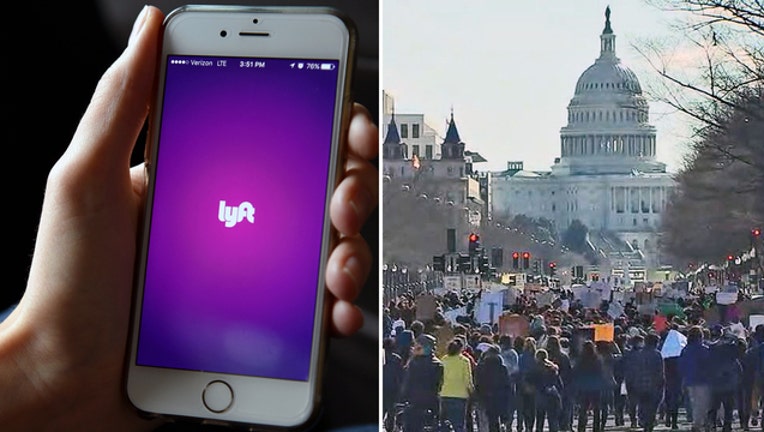 article
WASHINGTON - Lyft has announced that the ride-sharing service will be offering free rides to people wishing to attend the March For Our Lives.
The company said it would be offering free rides to the main demonstration in Washington D.C. and in 49 other cities expected to have sibling marches.
The company urged users wanting to get a free ride to the demonstration to RSVP for the event here.
MARCH FOR OUR LIVES: What you need to know
Lyft said free ride codes would be distributed on Friday to those who have RSVP'd. If you weren't able to RSVP for the event, ride codes to the marches will be available here beginning Saturday morning.
Once users receive the code, they'll want to enter it into the "promos" tab of their Lyft app. The company said riders must set the official March for Our Lives rally point as their destination.
Users will find the rally point details in their app once they've entered the code in their promo tab. Lyft said any rider under the age of 18 must be accompanied by an adult. The company also noted it would support up to $1.5 million in free rides, so once the commitment is met they will no longer provide the promotion.
The promotion will be offered in the District and the following cities:
Phoenix, Arizona
Tucson, Arizona
Los Angeles, California
San Francisco, California
San Diego, California
San Jose, California
Oakland, California
Sacramento, California
Denver, Colorado
Hartford, Connecticut
Parkland, Florida
Orlando, Florida
Miami Beach, Florida
Tampa, Florida
Jacksonville, Florida
Atlanta, Georgia
Honolulu, Hawaii
Des Moines, Iowa
Chicago, Illinois
Indianapolis, Indiana
Louisville, Kentucky
New Orleans, Louisiana
Boston, Massachusetts 
Portland, Maine
Detroit, Michigan
St. Louis, Missouri
Charlotte, North Carolina
Raleigh, North Carolina
Newark, New Jersey
Las Vegas, Nevada
New York City (Manhattan), New York
Columbus, Ohio
Cincinnati, Ohio
Cleveland, Ohio
Portland, Oregon
Philadelphia, Pennsylvania
Pittsburgh, Pennsylvania 
Providence, Rhode Island
Charleston, South Carolina
Nashville, Tennessee
Memphis, Tennessee
Austin, Texas
Houston, Texas
Dallas, Texas
San Antonio, Texas
Salt Lake City, Utah
Richmond, Virginia
Seattle, Washington
Milwaukee, Wisconsin
Follow FOX 5's coverage of the March For Our Lives:
You can follow all of FOX 5's coverage of the March For Our Lives on fox5dc.com, Facebook, Twitter, Instagram, YouTube and fox5dc.com/live.