Missing elderly couple, dog found after 2 days trapped in snow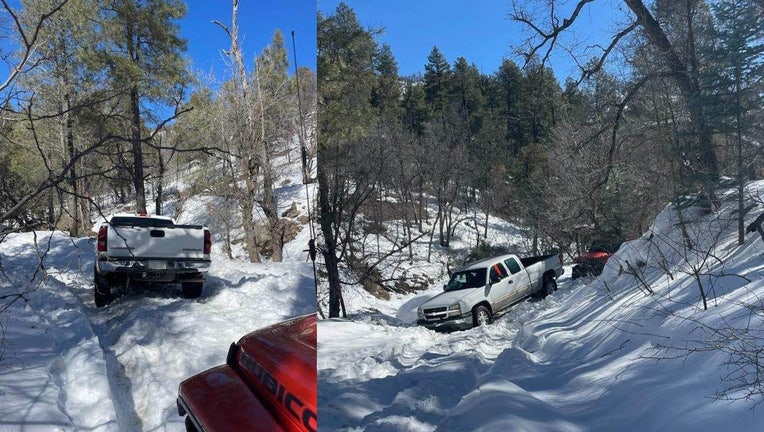 article
YAVAPAI COUNTY, Ariz. - An elderly couple and their dog are safe after spending two nights trapped in ice and snow in northern Arizona.
According to the Yavapai County Sheriff's Office, on Jan. 31, Mike and Catherine Pena and their dog Daphnee took their truck out for a drive to historic Palace Station in the Bradshaw Mountains. They got stuck in treacherous road conditions on Senator Highway.
After their granddaughter reported them missing, search and rescue teams worked 87 hours and searched 1,300 miles of roads. Twenty volunteers assisted in the search.
The Penas were found and airlifted after two nights stuck in the snow; their dog Daphne rode out with volunteers. None of them were injured.
READ MORE: Watch: Fishermen cling to cooler after boat capsizes off Australian coast
"Fortunately, they stayed put, conserved their fuel, and had food and water which helped the search effort and their safety immensely," the sheriff's office said.
What to keep in your car when driving in snowy mountains
The sheriff's office said it "cannot stress enough" the importance of being prepared for potentially dangerous driving.
It's recommended that you keep the following items in your car's winter emergency kit:
Flashlight
Maps/GPS
Batteries
Blanket
Warm clothes
Nonperishable food/snacks
Water
Gloves
Boots
First Aid Kit
Cell phone charger/battery booster
Tire chains
Ice scraper/snowbrush (a small shovel helps, too)
Flares or warning triangle
Kitty litter or sand to help with traction
A whistle to signal for help
Sun protection