New Jersey snowfall totals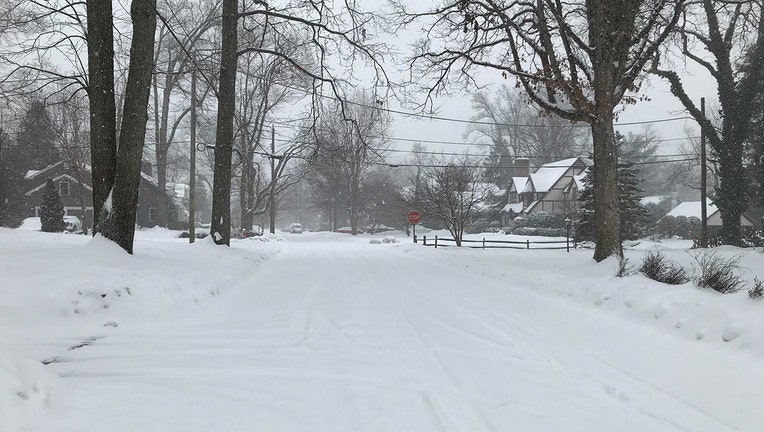 WESTFIELD, N.J. - A powerful winter storm is moving through the Northeast on Thursday and Friday, bringing snow, sleet, and freezing rain. The National Weather Service has posted weather alerts across parts of New Jersey, New York, and Connecticut. 
The forecast calls for between 3 and 9 inches of snow, depending on the location. Here are snow and freezing rain reports from several areas in New Jersey, as reported by offices of the National Weather Service.
Location                     Amount    Time/Date       Provider
SNOWFALL REPORTS
Atlantic County
Hammonton                    0.7 in    0100 PM 02/18   CO-OP Observer
Pleasantville                0.4 in    1227 PM 02/18   Broadcast Media
1 NW Atlantic City Internati 0.2 in    0100 PM 02/18   ASOS
Burlington County
Bordentown                   6.3 in    0110 PM 02/18   Trained Spotter
Florence                     5.2 in    1000 AM 02/18   Trained Spotter
Burlington Twp               4.0 in    1218 PM 02/18   Trained Spotter
Columbus                     3.0 in    1230 PM 02/18   Trained Spotter
Mount Laurel                 2.8 in    0100 PM 02/18   Trained Spotter
1 ENE Westampton Twp         2.7 in    0100 PM 02/18   Official NWS Obs
1 WNW South Jersey Regional  2.1 in    1230 PM 02/18   NWS Employee
Cinnaminson                  1.2 in    0814 AM 02/18   Public
1 NE Marlton                 0.7 in    1100 AM 02/18   Public
1 ESE Leisuretowne           0.5 in    1028 AM 02/18   Trained Spotter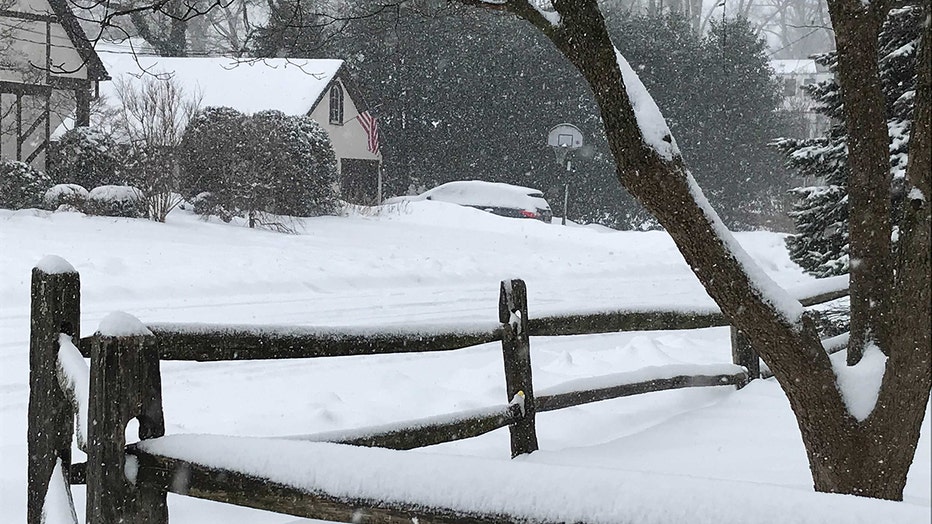 Snow falls in Westfield, N.J., Thursday, Feb. 18, 2021. (FOX 5 NY Photo by Luke Funk)
Camden County
Haddon Township              2.0 in    1245 PM 02/18   NWS Employee
Lindenwold                   1.7 in    1249 PM 02/18   Trained Spotter
Bellmawr                     1.4 in    1146 AM 02/18   Trained Spotter
Gloucester County
West Deptford Twp            2.0 in    1200 PM 02/18   Public
Sewell                       1.8 in    1245 PM 02/18   Trained Spotter
Williamstown                 1.7 in    1212 PM 02/18   Amateur Radio
2 W Pitman                   0.3 in    0927 AM 02/18   Trained Spotter
Hunterdon County
Whitehouse Station           3.9 in    0132 PM 02/18   Broadcast Media
Snow covers the streets in Union City, N.J., Thursday, Feb. 18, 2021. The Union City/Weehawken Reservoir Park is seen at the top. (FOX 5 NY Photo by Kathy Carvajal)
Mercer County
2 W Prospect Park            10.0 in   1250 PM 02/18   Trained Spotter
2 E Windsor                  8.5 in    0100 PM 02/18   Public
Trenton                      8.0 in    1048 AM 02/18   Public
Hamilton Square              8.0 in    1150 AM 02/18   Trained Spotter
Hamilton Twp                 8.0 in    1200 PM 02/18   Public
East Windsor Twp             7.5 in    1214 PM 02/18   Trained Spotter
1 SE Robbinsville Twp.       6.7 in    0933 AM 02/18   Public
2 W Yardville                6.0 in    0808 AM 02/18   Public
Robbinsville Twp.            6.0 in    0915 AM 02/18   Trained Spotter
Trenton Mercer Airport       6.0 in    1100 AM 02/18   Trained Spotter
Ewing                        5.5 in    1247 PM 02/18   Trained Spotter
Hopewell                     3.3 in    1130 AM 02/18   Trained Spotter
Princeton                    3.0 in    1119 AM 02/18   Public
3 NW Pennington              2.8 in    1030 AM 02/18   Trained Spotter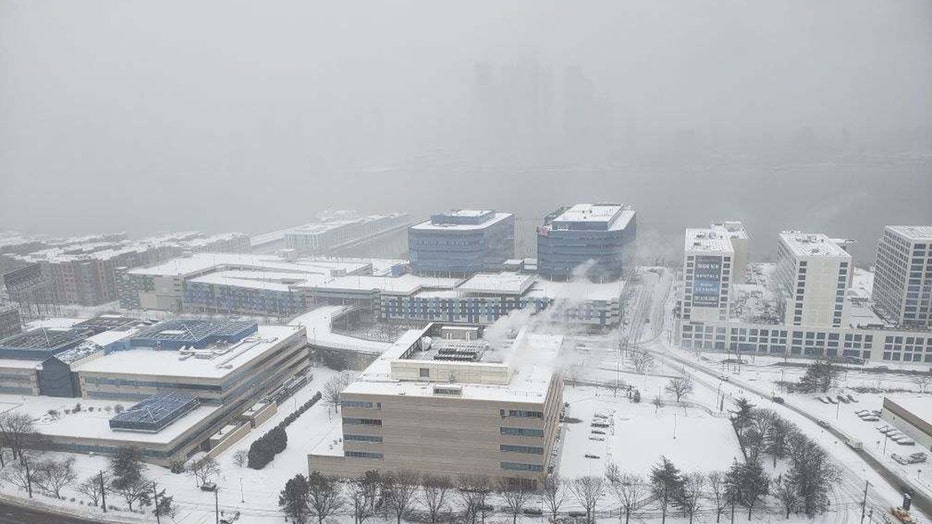 The snow falls on the Weehawken, N.J. waterfront, Thursday, Feb. 18, 2021. The Manhattan skyline is visible through the snowy fog. (FOX 5 NY Photo by Kathy Carvajal)
Middlesex County
Manalapan Twp                8.0 in    1245 PM 02/18   Trained Spotter
Old Bridge                   5.3 in    1230 PM 02/18   Trained Spotter
Cranbury                     5.3 in    0130 PM 02/18   Trained Spotter
Metuchen                     3.5 in    1230 PM 02/18   Trained Spotter
South Plainfield             3.0 in    1113 AM 02/18   Trained Spotter
Carteret                     3.0 in    1230 PM 02/18   Trained Spotter
Edison                       2.8 in    1119 AM 02/18   Public
Monmouth County
Freehold                     8.8 in    1239 PM 02/18   Trained Spotter
Colts Neck                   8.8 in    0118 PM 02/18   Trained Spotter
2 ENE Perrineville           8.3 in    0100 PM 02/18   Trained Spotter
East Long Branch             8.0 in    0130 PM 02/18   CO-OP Observer
1 SSW Spring Lake Heights    7.6 in    1245 PM 02/18   Trained Spotter
1 ESE Manalapan Township     7.5 in    1142 AM 02/18   Public
Eatontown                    7.0 in    1219 PM 02/18   Public
Lincroft                     6.5 in    1045 AM 02/18   Public
Holmdel                      6.0 in    0130 PM 02/18   Trained Spotter
Freehold Twp                 5.5 in    0100 PM 02/18   Trained Spotter
Manalapan Township           5.1 in    1120 AM 02/18   Trained Spotter
2 N Tinton Falls             5.0 in    0839 AM 02/18   Public
1 NW Sea Bright              5.0 in    1019 AM 02/18   Public
Leonardo                     4.5 in    0156 PM 02/18   Public
Aberdeen                     4.0 in    1155 AM 02/18   Trained Spotter
Howell                       2.3 in    1143 AM 02/18   Public
Strathmore                   2.0 in    0900 AM 02/18   Trained Spotter
Morris County
2 NNE Brookside              3.8 in    1253 PM 02/18   Trained Spotter
Butler                       3.7 in    0130 PM 02/18   Trained Spotter
Marcella                     3.5 in    1215 PM 02/18   Trained Spotter
Lake Hopatcong               3.2 in    1214 PM 02/18   Trained Spotter
Randolph                     3.0 in    1113 AM 02/18   Trained Spotter
Ocean County
Manchester Twp               4.1 in    0145 PM 02/18   Public
Brick                        3.6 in    0136 PM 02/18   Trained Spotter
Jackson                      3.0 in    1221 PM 02/18   Trained Spotter
Point Pleasant               2.5 in    1136 AM 02/18   Public
Toms River                   2.0 in    1214 PM 02/18   Trained Spotter
1 ESE Manahawkin             0.8 in    1230 PM 02/18   Trained Spotter
Somerset County
Basking Ridge                4.0 in    1140 AM 02/18   Public
Branchburg Twp               3.8 in    1214 PM 02/18   Public
Bridgewater                  3.5 in    1136 AM 02/18   Public
Warren                       3.5 in    1138 AM 02/18   Public
1 ENE Warren                 3.5 in    1230 PM 02/18   Trained Spotter
Somerville                   3.1 in    1215 PM 02/18   Trained Spotter
2 NW Bridgewater             3.0 in    1100 AM 02/18   Public
Manville                     3.0 in    1100 AM 02/18   Public
3 NNW Bridgewater            2.9 in    1153 AM 02/18   Cocorahs
Sussex County
Andover                      3.2 in    0100 PM 02/18   Trained Spotter
Byram                        3.0 in    1146 AM 02/18   Public
Warren County
Stewartsville                3.6 in    1145 AM 02/18   Trained Spotter
Hackettstown                 3.5 in    1159 AM 02/18   Trained Spotter
Blairstown                   2.5 in    1234 PM 02/18   Cocorahs
Bergen County
Ridgewood                    3.6 in    1200 PM 02/18   Trained Spotter
Ridgefield                   3.2 in    1247 PM 02/18   Trained Spotter
East Rutherford              2.8 in    1245 PM 02/18   Trained Spotter
New Milford                  2.0 in    1100 AM 02/18   Trained Spotter
Essex County
Cedar Grove                  3.3 in    1205 PM 02/18   Public
South Orange                 1.6 in    1000 AM 02/18   Public
Hudson County
Harrison                     3.1 in    0100 PM 02/18   CO-OP Observer
Passaic County
Bloomingdale                 3.4 in    1250 PM 02/18   Trained Spotter
Union County
Plainfield                   3.8 in    1225 PM 02/18   Trained Spotter
Cranford                     3.6 in    1230 PM 02/18   Trained Spotter
Newark Airport               3.5 in    0100 PM 02/18   Official NWS Obs
Elizabeth                    3.4 in    1215 PM 02/18   Trained Spotter
Linden                       3.0 in    1230 PM 02/18   Amateur Radio
Mountainside                 2.7 in    1140 AM 02/18   Public
1 WSW Springfield            1.5 in    1032 AM 02/18   Trained Spotter
Summit                       1.0 in    1040 AM 02/18   Public
FREEZING RAIN REPORTS
Atlantic County
1 NW Atlantic City Internati 0.09 in   0137 PM 02/18   ASOS
Burlington County
South Jersey Regional Airpor 0.02 in   1254 PM 02/18   ASOS
Cumberland County
Millville Municipal Airport  0.08 in   1254 PM 02/18   ASOS
Gloucester County
Williamstown                 0.05 in   0930 AM 02/18   Trained Spotter
WEATHER RESOURCES
Apps and Tools
Fox 5 Weather Team on Twitter