Nick Foles plans to become a pastor after football career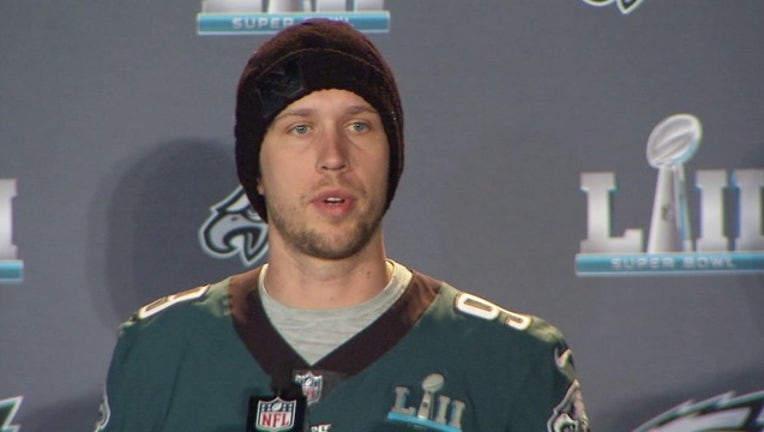 article
BLOOMINGTON, Minn. (AP) - Nick Foles has a calling far greater than throwing touchdown passes.
After Foles leading the Philadelphia Eagles to a Super Bowl victory over the New England Patriots, he's bound to become a folk hero in a city that has desperately waited for a championship since 1960.
But that won't define Foles in the big picture. He has more important plans for his future.
"I want to be a pastor in a high school," Foles said Thursday. "It's on my heart. I took a leap of faith last year and signed up to take classes at seminary. I wanted to continue to learn and challenge my faith. It's a challenge because you are writing papers that are biblically correct. You want to impact people's hearts."
Foles is part of a team that has a strong Christian brotherhood. MVP contender Carson Wentz has been outspoken about his faith and many players spend a lot of time together in prayer, studying the Bible and sharing devotionals.
Foles was one of the study leaders during his first stint in Philadelphia and has become a go-to source for younger guys. Left guard Stefen Wisniewksi also plans to become a pastor after his career ends.
"Guys like Nick and Wis can spit out scripture all day and it's awesome to take in that knowledge," said special teams ace Kamu Grugier-Hill.
Foles is passionate about helping students find their way and plans to use his experiences to inspire and encourage them.
"When I speak to (students), that's such a time of young men and young women's lives that there's a lot of things that are thrown at them. So much temptation in this world, so much going on with social media and the internet that you want to talk to them and address it and share all the weaknesses I have because I've fallen many times," Foles said. "It's something I want to do. I can't play football forever. I've been blessed with an amazing platform and it's just a door God has opened, but I still have a lot of school left and a long journey."
Foles, who was named Super Bowl LII MVP, and offensive MVP of the Pro Bowl following the 2013 season, contemplated retirement after he asked the Rams to release him last year. He ended up going to Kansas City and reuniting with Andy Reid, who drafted him in the third round in Philadelphia in 2012.
He says prayer helped him decide to stay in the NFL, and he returned to the Eagles to be Wentz's backup. When Wentz tore his left ACL in Week 14, Foles stepped in and led Philadelphia. He was spectacular against Minnesota in the NFC championship, tossing four touchdown passes in a 38-7 win.
"It took a lot more faith to come back and play than it would've to go in the other direction," Foles said. "Either way would've been fine. Either way, I would've trusted in God. I would've done something else and glorified God in that instance.
"The reason I decided to come back is I've loved the game of football since I was a kid, I loved playing sports, I loved being part of a team, and I knew as a person that the more growth I've had and the more opportunity I would have to glorify God and trust in him would be to go back and play football."