Rescue operation of NJ explorer trapped in Turkish cave could soon start
TURKEY - An American researcher who fell ill over 3,000 feet below the entrance of a cave in Turkey has recovered sufficiently enough to be extracted in an operation that could last three or four days, a Turkish official was quoted as saying on Friday.
Mark Dickey, a 40-year-old experienced caver, became suddenly ill with stomach bleeding during an expedition with a handful of others in the Morca cave in southern Turkey's Taurus Mountains.
Rescuers from across Europe have rushed to the cave for an operation to save him, including a Hungarian doctor, who reached and treated him.
"The doctors we sent down were very successful in treating him," Cenk Yildiz, a regional official from Turkey's disaster relief agency, told the IHA news agency. "We are now in a position to evacuate him."
"This is a difficult operation. It would take a (healthy) person 16 hours to come out. This operation will last at least three or four days," Yildiz continued. "Our priority is health. Our aim is to conclude this operation without anyone coming under any danger.
Late on Thursday, members of Italy's National Alpine and Speleological Rescue Team, including at least a doctor and a nurse, joined rescue teams from Bulgaria, Croatia, Hungary, Italy, Poland and Turkey. A Turkish helicopter was on standby near the entrance of the cave, Turkish media reports said.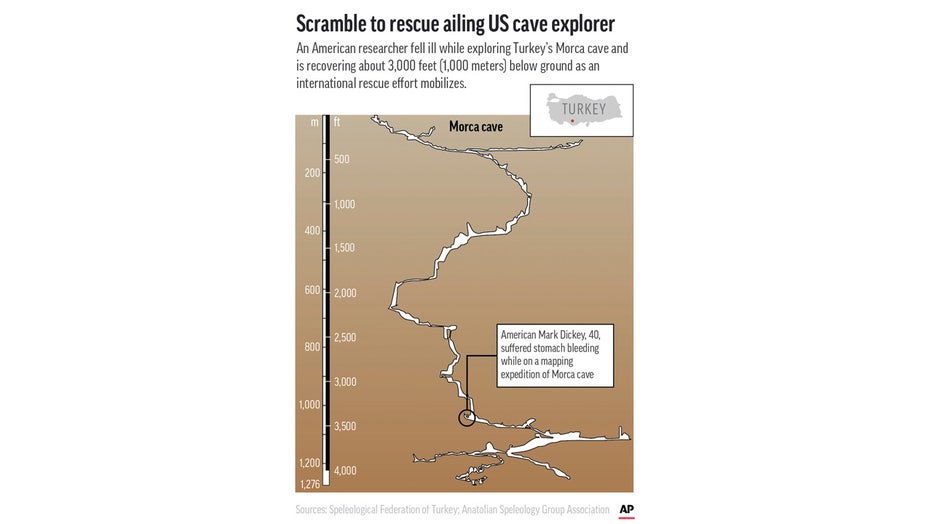 An American is recovering deep below ground and awaiting rescue after getting sick while on a mapping expedition of Turkey's Morca cave. (AP Graphic)
Dickey was seen standing and moving around in a video message from inside the cave that was made available Thursday by Turkish authorities. He said while he is alert and talking, he is not "healed on the inside" and will need a lot of help to get out of the cave.
In the message, he also thanked the caving community and the Turkish government for their efforts.
"The caving world is a really tight-knit group, and it's amazing to see how many people have responded on the surface," said Dickey. " ... I do know that the quick response of the Turkish government to get the medical supplies that I need, in my opinion, saved my life. I was very close to the edge."
The New Jersey-based cave rescue group that Dickey is affiliated with said he had been bleeding and losing fluid from his stomach, but he has now stopped vomiting and has eaten for the first time in days. It was not clear what caused the medical issue.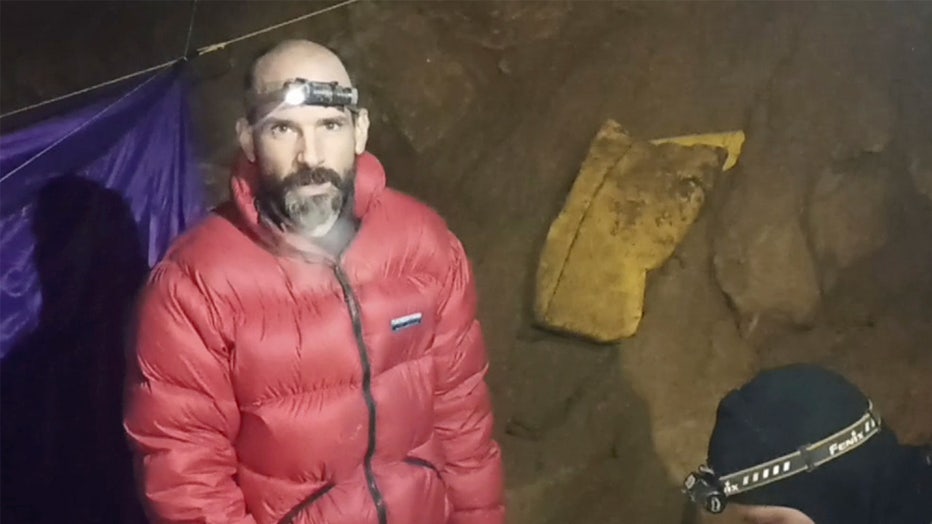 In this screen grab from video, Dickey talks to camera next to a colleague inside the Morca cave near Anamur, southern Turkey. (Turkish Government Directorate of Communications via AP)
Doctors were expected to decide whether he will need to leave the cave on a stretcher or if he can leave under his own power. The New Jersey Initial Response Team said the rescue will require many teams and constant medical care inside the cave, which is also quite cold.
According to the Hungarian Cave Rescue Service and other officials, the cave was being prepared for Dickey's safe extraction, including passages being widened and the danger of falling rocks being addressed.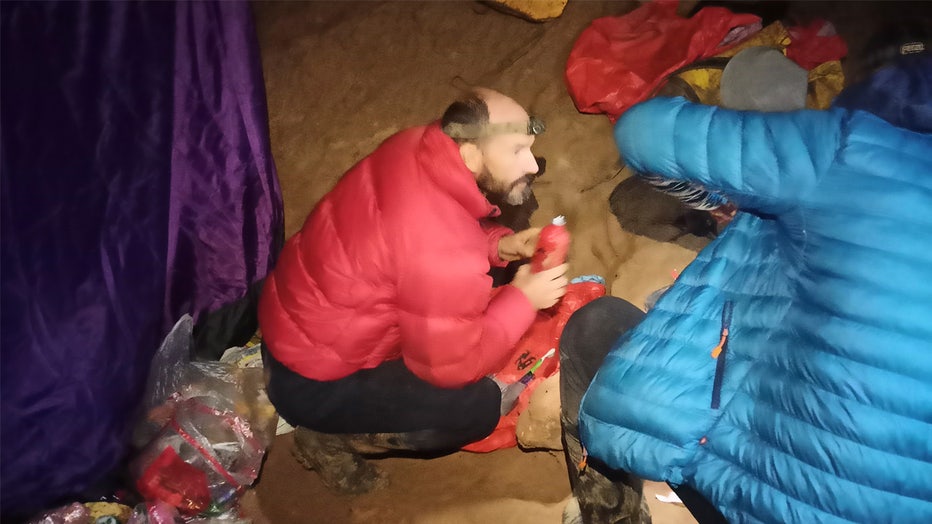 Dickey talks to a colleague inside the Morca cave near Anamur, southern Turkey. (Turkish Government Directorate of Communications via AP)
Dickey was described by the association as "a highly trained caver and a cave rescuer himself" who is well known as a cave researcher, or speleologist, from his participation in many international expeditions. He is secretary of the association's medical committee.
The researcher was on an expedition mapping the 1,276-meter deep Morca cave system for the Anatolian Speleology Group Association when he ran into trouble about 1,000 meters down, according to Yusuf Ogrenecek of the Speleological Federation of Turkey. 
He initially became ill on Sept. 2, but it took until the morning of Sept. 3 to notify others who were above ground.
More than 170 people, including doctors, paramedics and experienced cavers, are involved in the rescue operation.
__
Suzan Fraser in Ankara, Turkey; Robert Badendieck in Istanbul; Mike Catalini in Trenton, New Jersey; Darko Bandic in Zagreb, Croatia; Justin Spike in Budapest, Hungary; Aritz Parra in Madrid; Monika Scislowska in Warsaw, Poland; Patricia Thomas in Rome; and Rhonda Shafner in New York contributed to this report.