Now hiring: NASA seeking new astronauts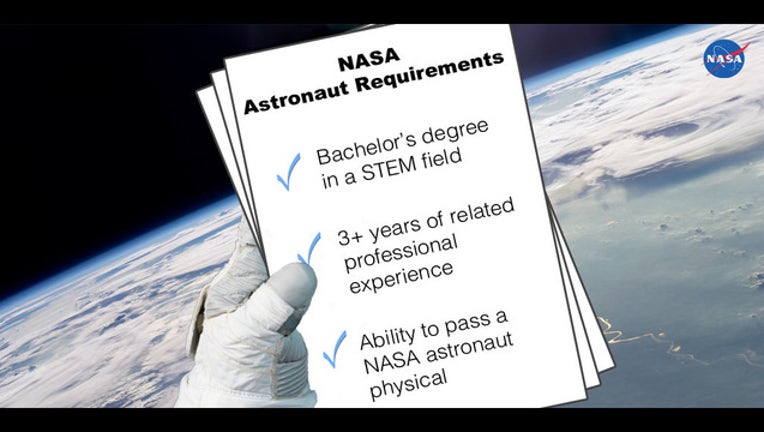 article
CAPE CANAVERAL (FOX 13) - If you've ever wanted to be an astronaut, it's time to dust off that resume.  NASA will soon be taking applications for one of the most elite jobs on -- and off -- the planet.
The space agency announced Wednesday that they'll start accepting applications next month for what will ultimately be its 22nd class of astronauts, some of whom may be the first to visit Mars.
Even though the space shuttles stopped flying years ago, NASA says there are more spacecraft under development now than any other time -- and they need people to fill the seats.
Within a few years, NASA expects to stop buying rides on Russian rockets and instead send astronauts to the station aboard privately-built space taxies like Boeing's Starliner capsule and SpaceX's Dragon capsule.
NASA also needs astronauts for the space shuttle's replacement -- the massive Space Launch System rocket and Orion capsule, designed to carry humans beyond low earth orbit for the first time in 30 years.  Orion's first manned flight is still a few years away, though -- likely slipping past 2021 -- but it could eventually be headed to the moon or even the red planet.
"Those selected for this service will fly on U.S.-made spacecraft from American soil, advance critical science and research aboard the International Space Station, and help push the boundaries of technology in the proving ground of deep space," NASA administrator Charles Boldin said.
To apply, astronaut candidates must:
Have a bachelor's degree from an accredited institution in engineering, biological science, physical science or mathematics (an advanced degree is desirable)
Have at least three years of related, progressively responsible professional experience -- OR at least 1,000 hours of pilot-in-command time in jet aircraft
Pass the NASA long-duration spaceflight physical
Applications will be accepted starting December 14 until mid-February. You can learn more at http://www.nasa.gov/astronauts