Padres fan catches foul ball in beer, then chugs with ball still in cup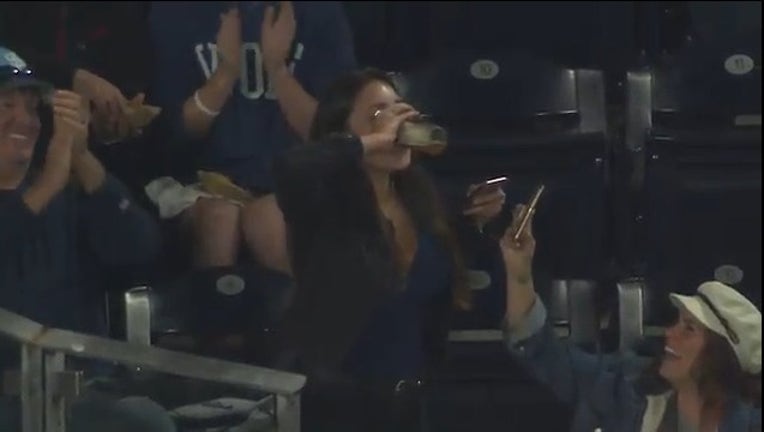 article
OAKLAND, Calif. (KTVU) - A woman watching the Padres host the Braves at Petco Park Tuesday caught a foul ball in her beer and proceeded to chug to the applause of fans. 
San Diego native Gabby DiMarco was enjoying a cold one at her seat in the fifth inning when Braves Ender Inciarte fouled it back high into the stands. It ended up in DiMarco's cup. She stood up, shared the celebration with fans, and then did the most fitting thing – she chugged what was left in the beer with the ball still in it.  
"It bounced from behind me – I wasn't trying to catch it at all – and it land in my cup," DiMarch said, per MLB.com. 
MOBILE USERS CLICK HERE TO WATCH THE HEROIC CATCH
You could say it was the most exciting thing of the night, for Padres fans, who witnessed the home team get pummeled 14-1 by the National League East first-place Braves. 
And then Wednesday afternoon, just before 1:00 p.m., Budweiser tweeted out that DiMarco has tickets to a future Padres game -- with a beer included -- on them.
"If you catch a ball in your beer, you have to finish it," Budweiser wrote in a tweet. "She knows the rules." 
Baseball is challenging. Players have milliseconds to react to a pitch and hitting a baseball is considered one of the most challenging feats in sports. Fielders make diving catches, crash into the outfield wall and hurl the ball from over a 100 feet to get an out. But how many of them have caught a ball with a beer?
Congratulations, DiMarco. Your viral catch is legendary.