Pentagon probes deaths of U.S. Army Rangers killed in ISIS raid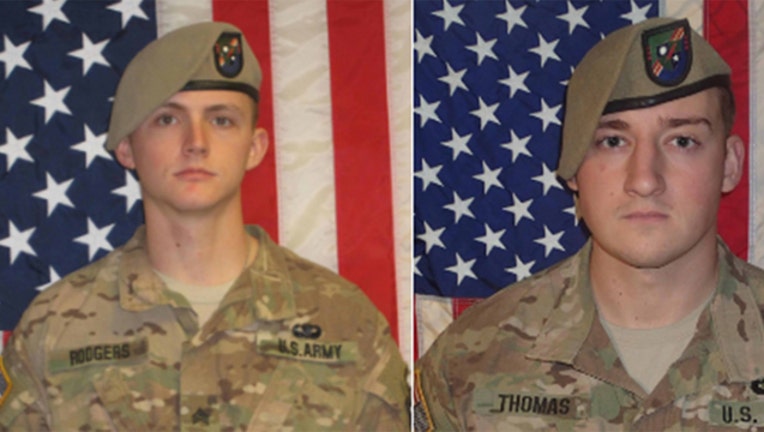 article
NEW YORK (FOX5NY) - The U.S. Department of Defense is investigating whether friendly fire killed two U.S. Army Rangers during a raid against an ISIS affiliate in southern Nangarhar province, Afghanistan, this week. Fox News reported that U.S.-allied Afghan soldiers may be responsible for the deaths of Sgt. Joshua P. Rodgers, 22, of Illinois, and Sgt. Cameron H. Thomas, 23, of Ohio. The Rangers were with Company C, 3rd Battalion, 75th Ranger Regiment, stationed at Fort Benning, Georgia.
In a statement, Secretary of Defense Jim Mattis offered his respect and sympathies to the families of the fallen soldiers.
"Fighting alongside their Afghan partners, Josh and Cameron proved themselves willing to go into danger and impose a brutal cost on enemies in their path. They carried out their operation against ISIS-K in Afghanistan before making the ultimate sacrifice to defend our nation and our freedoms," Mattis said. "Our nation owes them an irredeemable debt, and we give our deepest condolences to their families."
Both soldiers enlisted in the Army after graduating from high school and both were on their third deployments to Afghanistan when they were killed in combat, according to a U.S. Army news release.
FOX News reported that there soldiers were fighting ISIS-K in partnership with Afghan National Defense and Security Forces in the same area where the Mother Of All Bombs was dropped earlier this month. The Pentagon said officials believe the raid killed 35 ISIS fighters, including the head of ISIS-K in eastern Afghanistan, Abdul Hasid.
"The fight against ISIS-K is important for the world, but sadly, it is not without sacrifice," said General John W. Nicholson, Commander, U.S. Forces-Afghanistan. "On behalf of all U.S. Forces and our coalition partners, I offer our deepest sympathies to the families, friends and fellow service members of our fallen comrades."
ISIS-K refers to the group's Khorasan offshoot, which operates in Pakistan, Afghanistan, Uzbekistan, and other parts of Asia.