Pope brings ecology, anti-poverty message to UN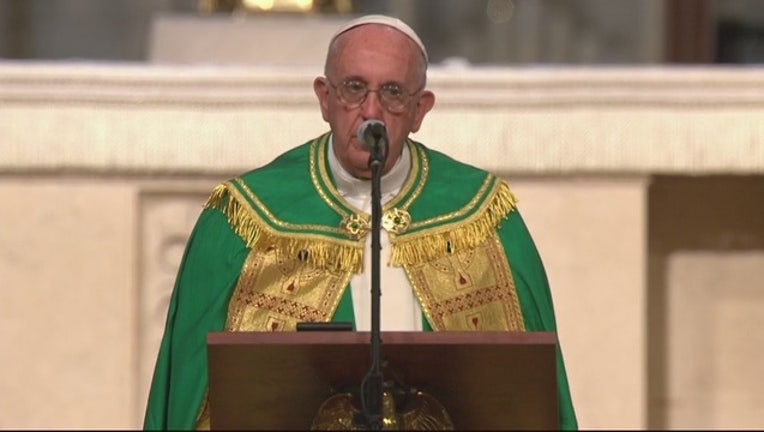 article
NEW YORK (AP) — In a day packed with encounters with both the powerful and the poor, Pope Francis arrived at the United Nations on Friday for an address expected to emphasize themes that have shaped his popular papacy: the environment and the poor.
Francis' agenda reflected both his global stature and his of-the-people approach, taking him from the solemnity of ground zero to the struggles of East Harlem.
His visit was scheduled to include events as large as a processional drive through Central Park, as personal as meetings with schoolchildren and immigrants, and as inspiring for the faithful as Mass for thousands at Madison Square Garden.
Francis, who on Thursday became the first pope to address a joint meeting of Congress, was set to speak to world leaders gathered for a U.N. General Assembly summit to adopt new global goals for fighting poverty and protecting the environment.
Religious persecution was also expected to be on the agenda for his international audience.
Francis was greeted on his arrival at the U.N. by Secretary-General Ban Ki-moon, a key supporter of Francis' agenda. Francis thanked Ban and the U.N. staff for their service.
While his visit marks the fifth time a pope has been to the United Nations, the Vatican flag was raised for the first time just before his arrival. The General Assembly recently agreed to allow the U.N.'s two observer states, the Holy See and Palestine, to fly their flags alongside those of the 193 member states.
After the U.N., the pope was scheduled to visit the 9/11 memorial, where two waterfall pools mark the outlines of the World Trade Center's twin towers before they were toppled by the terrorist attacks of Sept. 11, 2001.
He was expected to meet relatives of some of the nearly 3,000 victims before heading belowground to the Sept. 11 museum for an interfaith service.
Francis' plans for Friday afternoon reflected the penchant of the "people's pope" for engaging with the public.
First on the agenda was a visit to Our Lady Queen of Angels School, set amid public housing in the heavily Hispanic neighborhood of East Harlem.
Known for ministering to the downtrodden in his native Buenos Aires, Francis was set to meet schoolchildren and offer a special blessing to refugees and immigrants, including people living in the country illegally.
Then he was to greet as many as 80,000 onlookers during a drive through Central Park, en route to Mass for 18,000 at Madison Square Garden.
On Thursday evening, thousands cheered as Francis waved from his popemobile along Fifth Avenue en route to St. Patrick's Cathedral for evening prayers.
His reflections included his strongest expression yet of gratitude and respect for American nuns, whom he thanked for their strength, spirit and courage.
Pews full of American priests and sisters erupted in applause on hearing Francis' words, which came after he halted an overhaul the Vatican had ordered under his predecessor to the largest umbrella group of U.S. sisters. The Vatican office that guards orthodoxy had accused the nuns of straying from church teaching, which they denied.
In Washington earlier Thursday, the pope waded into bitter disputes while speaking to Congress, entreating the nation to share its immense wealth with those less fortunate. He also urged the nation to abolish the death penalty, fight global warming and embrace immigrants.
Lawmakers gave him rousing ovations. Though he offered an agenda more to Democrats' liking, Republicans heard something to applaud in his references to the sanctity of life and family relations, reminders that even the more open Roman Catholic Church over which Francis presides still condemns abortion and gay marriage.
His historic speech appeared determined to remind the United States of its foundations as a country made up of immigrants.
"Let us treat others with the same passion and compassion with which we want to be treated," he said. "Let us seek for others the same possibilities which we seek for ourselves."
Francis wraps up his U.S. visit this weekend in Philadelphia, where he speaks in front of Independence Hall and celebrates Mass on the Benjamin Franklin Parkway to close out a big rally on Catholic families.
___
Associated Press writers Erica Werner, Donna Cassata, Matthew Daly, Alan Fram, Stephen Ohlemacher, Andrew Taylor, Mary Clare Jalonick, Ben Nuckols and Jessica Gresko in Washington, and Deepti Hajela, Edith Lederer, William Mathis, Jackie Snow and Rachel Zoll in New York contributed to this report.