Puppy shot with BB gun finds forever home with 10-year-old girl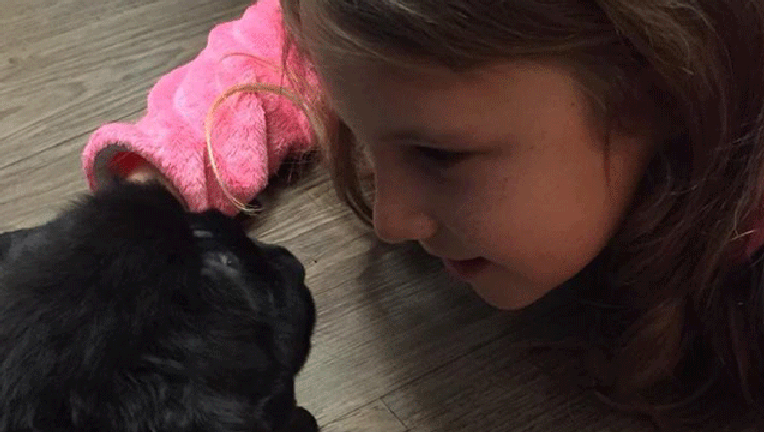 article
ROCK HILL, SC - Project Safe Pet, who has been working closely with Ebenezer Animal Hospital, announced this week that Brody has been officially adopted. 
As we've reported, the 6-week-old puppy was found on Sunday, February 21 at Wildwood Spring Apartments. He had been shot 18 times with a BB gun. Two teenagers have been charged in the case. 
The Lab mix was transported to Ebenezer Animal Hospital for treatment. 
Hospital staff said there were three people in the area that were very close to the situation. They said it was extremely difficult to pick who ultimately got to take Brody home.
Staff said the outpouring for adopting Brody has been very overwhelming. Hospital staff said they did not anticipate adopting him out so quickly but, when 10-year-old Kailey came to visit Brody the connection was instantaneous.
Staff said Kailey lost her best friend Woodrow, a 15-year-old lab about two months ago. Upon seeing the picture of Brody, Kailey cried. When she came in to see Brody, the bond was immediate.
They said Kailey told her mother that Brody had "Woodrow in his eyes". 
Brody remains at Ebenezer Hospital and will officially go home with his new family on Saturday. 
Staff said Brody will continue to need a lot of medical care and he will continue to get it through Ebenezer. They said Brody is too young to have surgery to remove all the BB's so his care will be ongoing.
Project Safe Pet said they still have so many in need of good homes. They ask to please visit Petfinder.com or, go to local county shelters, Humane Societies and other rescue groups to adopt a rescue puppy.