Coolio, icon of '90s rap known for 'Gangsta's Paradise,' dies at 59
LOS ANGELES - Music fans are mourning following the sudden loss of a hip-hop legend.
Grammy Award-winning rapper and Compton native Coolio died at the age of 59 Wednesday, his manager confirmed with the Associated Press and TMZ.
According to TMZ's report, Coolio's friend found him lying on a bathroom floor before emergency crews arrived on the scene. They attempted to revive him for about 45 minutes. However, he was declared dead at the scene. 
While an official cause of death has yet to be released, TMZ reports cardiac arrest may have played a factor in Coolio's death.
Born Artis Leon Ivey Jr., in Monessen, Pennsylvania south of Pittsburgh, Coolio moved to Compton, California. He spent some time as a teen in Northern California, where his mother sent him because she felt the city was too dangerous.
He said in interviews that he started rapping at 15 and knew by 18 it was what he wanted to do with his life, but would go to community college and work as a volunteer firefighter and in airport security before devoting himself full-time to the hip-hop scene.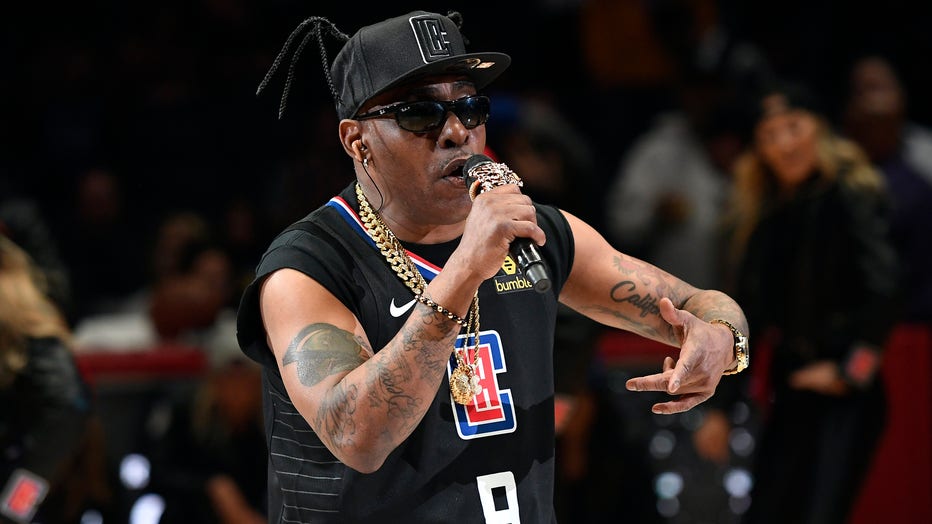 Rapper Coolio performs during the halftime of Golden State Warriors and Los Angeles Clippers basketball game at Staples Center in 2019. (Photo by Kevork Djansezian/Getty Images)
Coolio burst onto the with the scene with his first single "Fantastic Voyage." 
He then became a household name after his chart-topping single "Gangsta's Paradise." The song helped him capture a Grammy Award for Best Rap Performance in 1996 and was a featured track in the movie Dangerous Minds, starring Michelle Pfeiffer.
"A life cut entirely too short. As some of you may know I was lucky enough to work with him on Dangerous Minds in 1995. He won a Grammy for his brilliant song on the soundtrack - which I think was the reason our film saw so much success. I remember him being nothing but gracious. 30 years later I still get chills when I hear the song. Sending love and light to his family. Rest in Power, Artis Leon Ivey Jr.," Pfeiffer wrote on Instagram.
"Coolio was an absolute icon of music and pop culture. Everyone who grew up in my era knows every single word to "gangsta's paradise", and still does. Prayers to his loved ones and family," Meghan McCain said in a tweet.
In movies, Coolio made cameo appearances in pace Jam, Clueless, The Big Payback, Panther, New Jersey Drive, The Jerk Boys, Eddie and Half Baked. He was also credited with composing the theme song for Nickelodeon's hit TV show Keenan and Kel.
Coolio was also known for his love of cooking. On-air, he was the face of a reality show, Cooking with Coolio, and made appearances for Celebrity Cook Off and Celebrity Chopped. 
According to the rapper's website, Coolio sold over 17 million records worldwide. In the community, he served as a spokesperson for the Asthma and Allergies Foundation, according to the rapper's website.
He was married to Josefa Salinas from 1996 to 2000. They had four children together.
The Associated Press contributed to this report.