Romney predicts Trump's re-election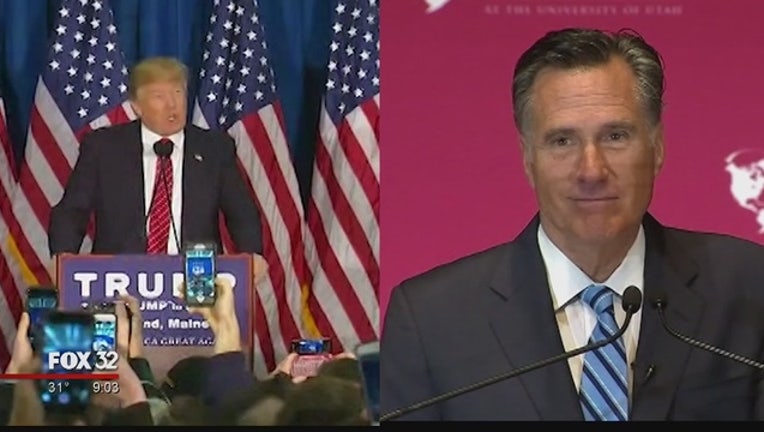 article
PARK CITY, Utah (AP) - He once called Donald Trump "a con man," but Mitt Romney is now predicting that Trump will "easily" win his party's presidential nomination in 2020 and "solidly" win a second term. The president, in turn, called Romney "a straight shooter."
Romney, the GOP's failed 2012 presidential nominee from Massachusetts, now a Republican Senate candidate in Utah, made the prediction Thursday as he welcomed dozens of high-profile business and political leaders to a mountainside retreat in Utah. As he has every year since 2012, Romney played host to an invitation-only summit focused on the future of American leadership at home and abroad.
The future, he predicted, would feature Trump as America's leader at least for another six years.
"I think that not just because of the strong economy and the fact that people are going to see increasingly rising wages," Romney said, "but I think it's also true because I think our Democrat friends are likely to nominate someone who is really out of the mainstream of American thought and will make it easier for a president who's presiding over a growing economy."
Asked about Romney's comments as he left the White House on Friday, Trump said he appreciated his formal rival's assessment.
"Mitt's a straight shooter - whether people love him or don't love him," Trump said.
The remarks from Romney marked a sharp reversal, in tone if not substance, from his original characterization of Trump. Romney briefly served as the face of the so-called "Never Trump" movement before the 2016 election. He delivered a scathing speech in Utah before the 2016 election, calling Trump "a con man" and "a fake."
Yet Romney's criticism has softened since then. And now, in the midst of a Republican Senate primary campaign, the former Massachusetts governor appears to be embracing Trump and his leadership role in the modern-day Republican Party.
He delivered the remarks on the first day of the three-day, closed-door summit in Utah's mountains. The Associated Press was allowed to listen to Romney's remarks during the event's opening reception.
Dignitaries on the guest list included House Speaker Paul Ryan, billionaire former New York City Mayor Michael Bloomberg and Colorado Sen. Cory Gardner, in addition to actor Seth Rogin, former Starbucks CEO Howard Schultz and former Domino's Pizza CEO Patrick Doyle.
While there were many Trump skeptics in the crowd, a handful of Trump loyalists were in attendance as well, including short-lived White House communications director Anthony Scaramucci and Blackstone CEO Stephen Schwarzman.
It won't be all business.
Guests will have an opportunity to go skeet shooting with Ryan or hiking with Romney.
"I'm looking forward to an unusual and packed couple of days here," Romney said, suggesting he would have little more to say about politics. "Campaigns are off limits."