Santa Barbara Zoo becomes Certified Autism Center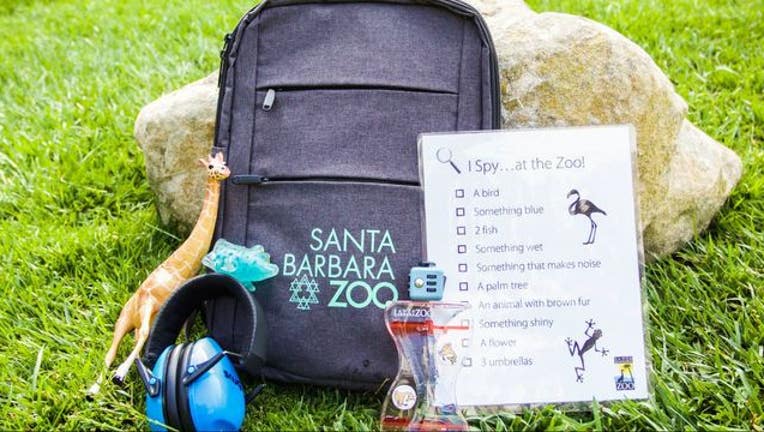 article
SANTA BARBARA, Calif. (KTVU) - The Santa Barbara Zoo is the first zoo on the West Coast to become a Certified Autism Center.
It's a certification near and dear to the heart of Santa Barbara Zoo School Director J.J. McLeod, a mother of three kids under the age of six. 
McLeod says her 5-year-old son is on the autism spectrum, so she knows what parents face when they plan a busy day out at a high sensory place like a zoo.
She generally travels with her purse packed full of sensory items for her son - like squeezable toys. McLeod says when kids on the spectrum get overstimulated it's called stimming, so items to refocus can calm them down. "If they get anxious, having those items in their hands keeps them focused. Anything sensory helps calm them down - especially new things," she said. 
McLeod wanted to help make the zoo a welcoming place for all children. 
That's where the sensory backpacks come into play. The backpacks are available at the front gate - and like McLeod's purse - they're filled with helpful things for children with sensory needs including squeeze toys, noise canceling headphones, a fidget cube and scavenger hunt list. 
She says the noise canceling headphones might allow a child to do things that may otherwise be too overwhelming, like riding the train. 
In addition, 80 percent of the zoo's staff has been trained on how to help families with special needs. That includes leading families to quiet spaces around the property that have been set up, or simply asking how they can help during a meltdown. 
McLeod says they're also working on an online guide that will teach kids what to expect when they come to the zoo. That includes details about the parking lot, ticketing and animals. She says if kids know what to expect when they arrive, it helps to keep them calm when they encounter new things. 
McLeod hopes the new "autism-friendly" experience may draw more families who previously would have skipped a day at the zoo. 
Learn more about the Santa Barbara Zoo here.