Sell-off in industrial, tech stocks sends Dow down for 5th straight day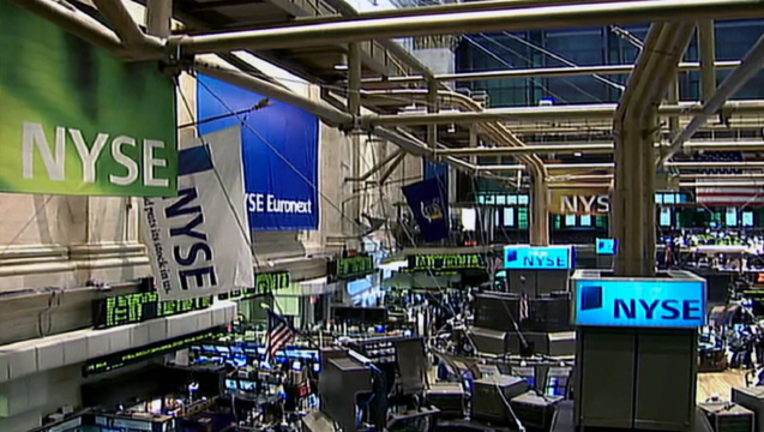 article
NEW YORK (AP) - U.S. stocks are sinking Tuesday as investors fear that rising oil prices and other costs will slow down growth in company profits. The worries began to set in after construction and mining equipment maker Caterpillar said it doesn't expect to top its first-quarter profit for the rest of this year. Industrial and basic materials companies and technology firms are taking some of the worst losses. The Dow Jones industrial average was down 500 points in later afternoon trading.
App user: View full article here
KEEPING SCORE: The S&P 500 index sank 45 points, or 1.7 percent, to 2,625 as of 3:40 p.m. Eastern time. The Dow Jones industrial average was down 509, or 2.1 percent, to 23,982. It was down as much as 619 earlier before paring some of its losses. The Nasdaq composite dropped 148 points, or 2.1 percent, to 6,983.
Small-company stocks held up better than the rest of the market. The Russell 2000 index declined 12 points, or 0.8 percent, to 1,549, about half as much as the S&P 500, which tracks large U.S. companies.
INDUSTRIAL WEAKNESS: Caterpillar executives told analysts on a conference call in the late morning that they don't expect the company to report a larger per-share profit for the rest of the year. The stock dropped 5.6 percent to $145.38.
Caterpillar's products are used in a wide variety of industries including construction, power generation, mining and oil and gas drilling, which makes the company an important indicator of economic growth. Wall Street had cheered Caterpillar's results earlier in the day after the company had a strong first quarter and raised its forecasts for the year.
3M, which makes Post-it notes and industrial coatings and ceramics, shed 6.7 percent to $201.47 after cutting its annual forecast. 3M said raw materials costs are rising, especially for materials derived from crude oil, whose price has been rising, and transportation and logistics expenses are rising as well. Chemical companies and other materials makers could also see their profits affected as oil prices and other expenses rise.
DowDuPont shed 3.6 percent to $63.22. Elsewhere, aerospace company Boeing lost 3.2 percent to $327.95
THE QUOTE: Stocks shot up at the end of 2017 and the start of 2018 as investors bet that the recent corporate tax overhaul would lead to bigger profits for American companies and greater economic growth. Gina Martin Adams, chief equity strategist for Bloomberg Intelligence, said that hasn't happened yet.
"We're not yet seeing a very strong recovery in the broader economic numbers that would suggest the impact of tax reform is more than just temporary," she said. "The market is very impatient."
Adams said the tax cuts may help stocks later on, but investors always want to see better and faster growth, and now they're not sure where that improvement will come from.
BONDS: The concerns about increased costs also come at a time of rising interest rates, which makes it more expensive for companies to borrow money. Bond prices slipped again Tuesday. The yield on the 10-year Treasury note rose to 2.99 percent from 2.98 percent. Earlier it peaked at 3 percent for the first time since January 2014.
Low interest rates have played an important role in the economic recovery of the last decade, and the yield on the 10-year note is a benchmark for many kinds of interest rates including mortgages. It's been climbing because investors expect greater economic growth and faster inflation.
Since the global financial crisis in 2008-09, a combination of low inflation expectations and a bond-buying program by the Federal Reserve have helped keep bond yields low, but they have climbed this year as inflation has picked up. The 10-year yield traded at 2.43 percent at the beginning of the year.
MISPRINT: Alphabet slid 5 percent to $1,020.22 after the company said ad revenue climbed, but expenses also rose. Google's parent company benefited from strong digital ad sales as well as an accounting change.
Facebook fell 4 percent to $159.27 and Microsoft skidded 2.4 percent to $93.10. Another market favorite, Amazon, shed 3.6 percent to $1,462.70.
RINSE CYCLE: Appliance maker Whirlpool surpassed Wall Street's expectations in the first quarter. The maker of Maytag and KitchenAid products rose 4.4 percent to $156.93.
CURRENCIES: The dollar edged up to 108.67 yen from 108.65 yen. The euro rose to $1.2237 from $1.2205.
ENERGY: Benchmark U.S. crude oil shed 1.4 percent to $67.70 a barrel in New York. Brent crude, used to price international oils, fell 1.1 percent to $73.86 per barrel in London.
Wholesale gasoline lost 1.4 percent to $2.09 a gallon. Heating oil dipped 0.6 percent to $2.13 a gallon. Natural gas rose 1.5 percent to $2.78 per 1,000 cubic feet.
METALS: Gold rose 0.7 percent to $1,333 an ounce. Silver climbed 0.7 percent to $16.70 an ounce. Copper rose 1 percent to $3.14 a pound.
OVERSEAS: Germany's DAX lost 0.2 percent while the French CAC 40 added 0.1 percent and Britain's FTSE 100 rose 0.4 percent. Japan's benchmark Nikkei 225 rose 0.9 percent, helped by the weaker yen. The Kospi in South Korea lost 0.4 percent and Hong Kong's Hang Seng added 1.4 percent.