Watch: Statue of Liberty comes to life in NYC drone show
NEW YORK - Thousands of people flocked to the streets and shorelines of New York City on Tuesday to watch the annual fireworks show celebrating Independence Day. 
The 47th Annual Macy's 4th of July Fireworks dazzled with an average of 2,400 shells and effects firing off each minute, with a total of 60,000 shells blasting off from barges spanning a mile across the East River, FOX 5 NY reported.
This year's show also included some amazing new effects. Before the fireworks got underway, drones took the form of a number of designs, from the American flag to the Statue of Liberty.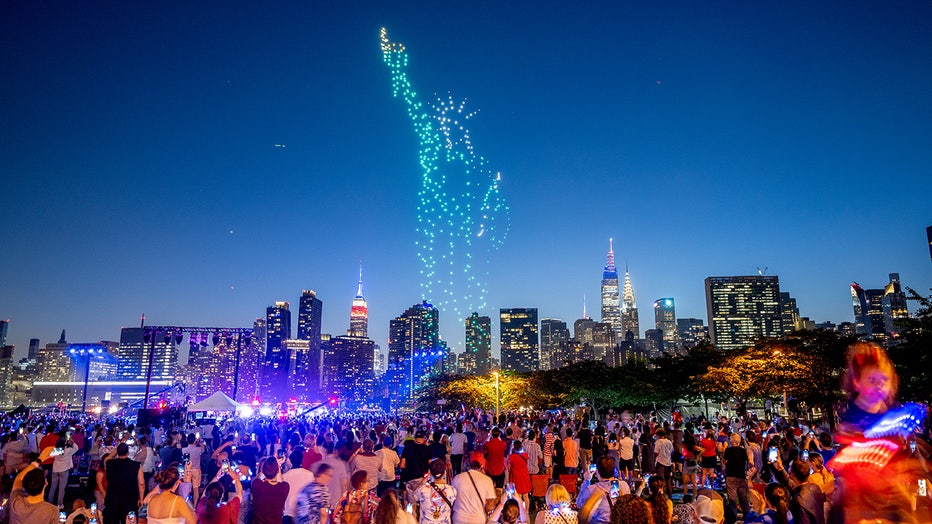 Drones perform a light show in the form of the Statue of Liberty before the Macy's fireworks display celebrating the United States 247th independence day on July 4, 2023 in New York City. (Photo by Roy Rochlin/Getty Images)
Footage by Twitter user @NamelyNorm and Christina Marie Riddick captured that part of the show.
"Rarely is my old jaded NYC [self] wowed by anything but this Statue of Liberty live tonight! [Macy's] ya done good!" @NamelyNorm tweeted of the experience.
RELATED: Macy's 47th annual Fourth of July fireworks feature new colors and effects