Stormy Daniels describes threat to keep quiet over alleged Trump scandal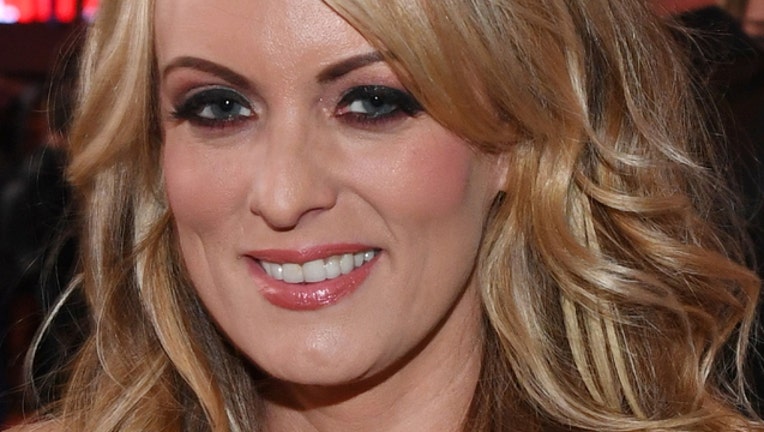 article
WASHINGTON (AP) - (AP) -- A lawyer representing adult film star Stormy Daniels was pressed for more evidence of her alleged sexual encounter with Donald Trump in a series of appearances the morning after his client told her story in a highly anticipated interview on "60 Minutes."
Michael Avenatti said there is more evidence to come, but that he and his client are withholding certain details, including the contents of a CD or DVD he tweeted a picture of last week.
"We're not going to get into the details of everything we have at this time, and there's a reason for that," he said on ABC's "Today" show. "We understand the American people want all the information right now, immediately. It would make no sense for us to play our hand as to this issue and we're not going to do it right now."
In the interview, Daniels said that she'd been threatened by an unidentified man in Las Vegas to keep quiet about her alleged relationship with Trump, an incident that she said happened while she was with her young daughter. She said in the interview that she had one encounter of consensual sex with the future president.
"He knows I'm telling the truth," said Daniels, whose legal name is Stephanie Clifford. She does not allege that she was coerced in her encounter with Trump, saying, "This is not a `Me too.' I was not a victim."
Avenatti said Monday that he is still working to verify the man's identity, and that he has no direct evidence tying the threat to Trump or his lawyer "other than common sense."
"It had to have come from someone associated with Mr. Trump, there is no other place for it to have come from. It didn't come from the magazine, it makes no sense. It certainly didn't come from my client," he said on ABC.
He also taunted Trump for failing to tweet about the allegations, suggesting that meant they were true.
Trump did complain later Monday morning about there being, "So much Fake News," but it's unclear whether he was referring to Daniels.
In the interview, the adult film actress provided little new evidence of her alleged 2006 affair with Trump but said she faced intimidation tactics aimed at ensuring her silence in 2011.
Daniels said that in the incident, in a parking lot, the man told her: "Leave Trump alone. Forget the story." She said he then looked at her daughter and said, "That's a beautiful little girl. It'd be a shame if something happened to her mom."
Daniels received a $130,000 payment days before the 2016 presidential election for her silence and has sought to invalidate a nondisclosure agreement.
The White House did not immediately comment Sunday on the interview. Trump, through his representatives, has denied the allegations. His attorney, Michael Cohen, has said Trump never had an affair with Daniels. Cohen has said he paid the $130,000 out of his pocket.
Cohen has said neither the Trump Organization nor the Trump campaign was a party to the transaction with Daniels and he was not reimbursed for the payment.
However, Daniels' attorney Michael Avenatti told "60 Minutes" he has documents showing Cohen using his Trump Organization email address in setting up the payment and that the nondisclosure agreement was sent by FedEx to Cohen at his Trump Organization office in Trump Tower.
A lawyer for Cohen, David Schwartz, accused Daniels of lying about the affair in his own appearance on ABC's "Good Morning America."
"The lying is all over that piece," he said, adding that the suggestion that someone associated with Trump or his organization was behind the alleged threatening incident was "speculation" and "guesswork."
In the interview, Daniels described a sexual encounter with Trump that began with him talking about himself and showing her an issue of a magazine with his picture on the cover. She said she asked, "Does this ... does this normally work for you?" He was taken aback, she says. "And I was like, `Someone should take that magazine and spank you with it."' She says she then ordered him to drop his pants and, in a playful manner, "I just gave him a couple swats."
She said they talked some more, although he quit talking about himself, and that she became more comfortable.
"He was like, `Wow, you -- you are special. You remind me of my daughter.' You know -- he was like, `You're smart and beautiful, and a woman to be reckoned with, and I like you. I like you."'
She said after dinner in Trump's room, they had sex. He didn't use a condom, she said, and she didn't ask him to. Afterward, he asked to see her again, she said.
Daniels said that before they had sex Trump had broached the idea of her being a contestant on "The Apprentice," and she likened it to a "business opportunity." She said he called her several times and would ask if they could get together again and that he had an update for her. She said she felt that he was holding out the opportunity to keep her coming back.
The CBS interview came as Trump deals with allegations about his sexual exploits long before he ran for president.
Former Playboy model Karen McDougal told Cooper in a CNN interview broadcast Thursday that her affair with Trump began at a bungalow at the Beverly Hills Hotel in 2006. McDougal said she ended the relationship in 2007 out of guilt.
McDougal has filed suit in Los Angeles seeking to invalidate a confidentiality agreement with American Media Inc., the company that owns the supermarket tabloid National Enquirer. It paid her $150,000 during the 2016 presidential election.
The lawsuit alleges that McDougal was paid for the rights to her story of an affair, but the story never ran. It also alleges that Cohen was secretly involved in her discussions with American Media.
© 2018 The Associated Press. All rights reserved. This material may not be published, broadcast, rewritten or redistributed.