Train derailments have declined in recent years, but they're not uncommon, US data shows
The Ohio train derailment, chemical fire, and resulting environmental health concerns have dominated news headlines in recent weeks. 
About 50 cars, including 10 carrying hazardous materials, derailed in the fiery crash on Feb. 3 in East Palestine, Ohio, located near the Pennsylvania state line. Vinyl chloride was later released into the air from five of those cars to get rid of the highly flammable, toxic chemicals in a controlled environment, creating a dark plume of smoke.
Residents from nearby neighborhoods in both states were evacuated because of health risks from the fumes, but have since been allowed to return. Concerns over the quality of air and water have begun mounting for people in the area. So much so that Ohio's governor and the head of the Environmental Protection Agency even volunteered to drink tap water at a local woman's home to demonstrate that the water is safe.
RELATED: Everything you need to know about the toxic chemicals aboard the derailed train in Ohio
The situation in Ohio appears to have also put a spotlight on other recent train derailments, including one in Enoree, South Carolina, another in Splendora, Texas, and a third in Van Buren Township, Michigan, which attracted some attention on social media last week.
"Another train derailment in South Carolina, the SECOND one this month. Something seems fishy," a person on Twitter wrote.
On Feb. 13, another Twitter user chimed in: "Officials responding to train derailment in Enoree. And a THIRD derailment!! No details yet. Just happened. It's not a coincidence anymore, watch your 6."
"US government must give substantial explanation about recent train derailments. This can not be explained simply an accident. Something is seriously outrageous," a third person tweeted on Feb. 16, sharing a video of the Michigan derailment, which was not a hazmat situation.
As it turns out, derailments are the most common type of train accident and they are not uncommon. Federal U.S. data shows there were 1,087 train derailments in 2021 — which averages to about three derailments each day.
Most are ordinary and don't cause any major problems, like a derailment in Nebraska on Tuesday morning that toppled more than two dozen Union Pacific railcars, spilled coal, and blocked the tracks.
The U.S. freight rail network runs on almost 140,000 route miles and is widely considered the world's "largest, safest, and most cost-efficient freight system," according to the U.S. Department of Transportation's Federal Railroad Administration. 
Since the mid-1970s, the number of train derailments involving both freight and passenger trains has dropped, falling from 6,328 in 1975, to 2,112 in 2000, to 1,087 in 2021, data shows. 
The transportation of hazardous materials in the U.S. often happens on trains, as it is recognized to be "the safest method of moving large quantities of chemicals over long distances," the Federal Railroad Administration states on its website. 
"Recent statistics show that the rail industry's safety performance, as a whole, is improving," the website reads. "In particular, the vast majority of hazardous materials shipped by rail tank car every year arrive safely and without incident, and railroads generally have an outstanding record in moving shipments of hazardous materials safely."
But costs from derailments of trains carrying hazardous materials have also increased over the last seven years, according to an op-ed in the New York Times, citing data from the U.S. Department of Transportation. The op-ed, written by journalists at investigative news outlet The Lever, charges that the U.S. rail industry tolerates too many preventable derailments and has lobbied against certain safety regulations.
Meanwhile, an analysis by USA Today found that America has also seen a 36% increase in rail hazmat violations over the last five years. The report noted how the increase could at least partially be a result of improved accountability by agency inspectors.
Buttigieg urges railroads to improve safety changes
In the wake of the East Palestine derailment, Transportation Secretary Pete Buttigieg announced a package of reforms on Tuesday designed to improve safety while regulators try to strengthen safety rules and was scheduled to visit the town on Thursday.
President Joe Biden wrote on Twitter that the past pattern of railroads resisting safety regulations must change and that Congress should support the effort to improve safety.
"Rail companies have spent millions of dollars to oppose common-sense safety regulations. And it's worked," Biden tweeted on Tuesday. "This is more than a train derailment or a toxic waste spill – it's years of opposition to safety measures coming home to roost."
Buttigieg said railroads and tank car owners should accelerate their plan to upgrade the tank cars that haul flammable liquids like crude oil and ethanol by 2025 instead of waiting to comply with the 2029 standard Congress ultimately approved after regulators suggested the earlier deadline. 
He also said freight railroads should reach more agreements to provide their employees with paid sick time to help prevent fatigue.
Railroad unions have also raised concerns that car inspections are being rushed and preventative maintenance may be getting neglected after widespread job cuts in the industry in recent years that they say have made railroads riskier.
"I do think that there's a moment to look in the mirror as an entire industry and decide what we can do better," said Greg Regan, president of the AFL-CIO's Transportation Trades Department coalition. "I think the industry by and large has been reluctant to make the types of changes that are needed. They have obviously fought regulations in the past, but I think they are running out of excuses here."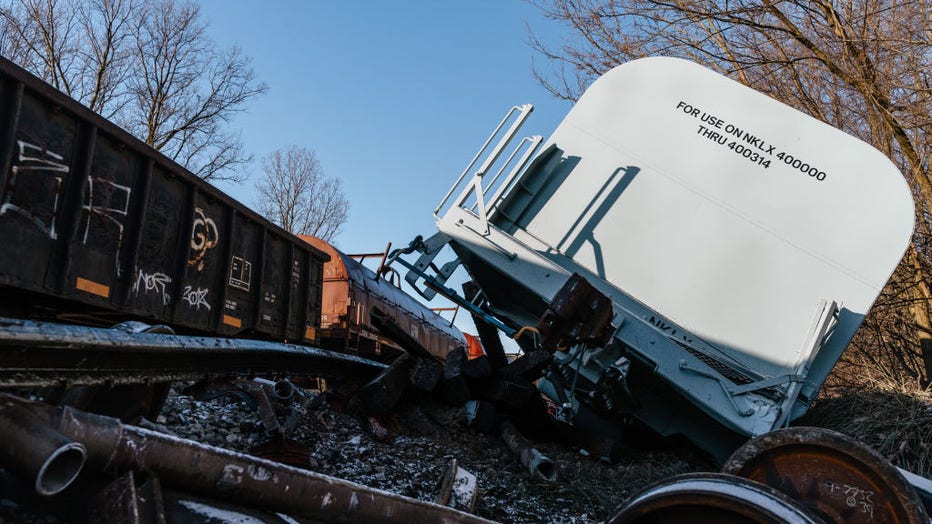 A train derails in Michigan with several cars veering off track in Van Buren Township, in Michigan, United States on Feb. 18, 2023. There were no immediate reported injuries or release of hazardous materials. (Photo by Nick Hagen/Anadolu Agency via G
Jeremy Ferguson, the president of the largest rail union that represents conductors, said railroads' reliance on longer trains and fewer employees since they started adopting this new operating model in 2017 is jeopardizing public safety.
Ferguson said the pursuit of higher profits prompted "rail carriers to abandon fundamentally sound practices for haphazard, inherently dangerous, impetuous movements of freight and locomotives across America's rail system."
Buttigieg said regulators will try to revive a proposed rule the Trump administration dropped that would have required upgraded, electronically controlled brakes on certain trains filled with flammable liquids that are designated "high-hazardous flammable trains." The rule was dropped after Congress directed regulators to use a strict cost-benefit analysis to evaluate the rule.
Buttigieg said he'll ask Congress to "untie our hands here" on the braking rule, and regulators may look at expanding which trains are covered by the "high-hazardous" rules that were announced in 2015 after several fiery crude oil train derailments — the worst of which killed 47 people and decimated the Canadian town of Lac Mégantic in 2013. He also said Congress should raise the current $225,455 limit on railroad safety fines at least tenfold to create a better deterrent.
Buttigieg criticized railroads for lobbying against the braking rule and challenging it in court. But railroad safety expert David Clarke, who previously led the Center for Transportation Research at the University of Tennessee, said the industry shouldn't be criticized too heavily for pushing back against proposed regulations.
"The fact that you couch those in terms of safety makes it seem like it's, you know, mom, God and apple pie — anything safety-related is sacred," Clarke said. "But the bottom line is companies have to look at the benefits and the cost of any expenditure."
Ohio Gov. Mike DeWine was incredulous when he learned the Norfolk Southern train that derailed didn't carry that "high-hazardous" designation, meaning that the railroad didn't have to notify the state about the dangerous chemicals it was carrying.
"This is absurd," DeWine said. "Congress needs to take a look at how this is handled."
Regulators and the Association of American Railroads trade group say there are hundreds of pages of other rules railroads must follow when they transport any hazardous chemicals, whether it is the vinyl chloride that has gotten so much attention in this derailment, crude oil, nuclear materials or any of the hundreds of other dangerous chemicals that railroads routinely carry.
It's not clear whether the "high-hazardous" rules could have prevented the East Palestine derailment. The National Transportation Safety Board is in the early stages of its investigation, although officials with that agency have said they believe the failure of an axle on one of the railcars not long after the train crew got a warning about a possible mechanical problem caused the crash.
Norfolk Southern has already committed $6.5 million to the community. That is likely just the start, as the EPA made clear Tuesday that Norfolk Southern will be responsible for the cleanup costs, and several lawsuits have already been filed against the railroad.
This story was reported from Cincinnati. The Associated Press contributed.