Trump pays return visit to hospitalized first lady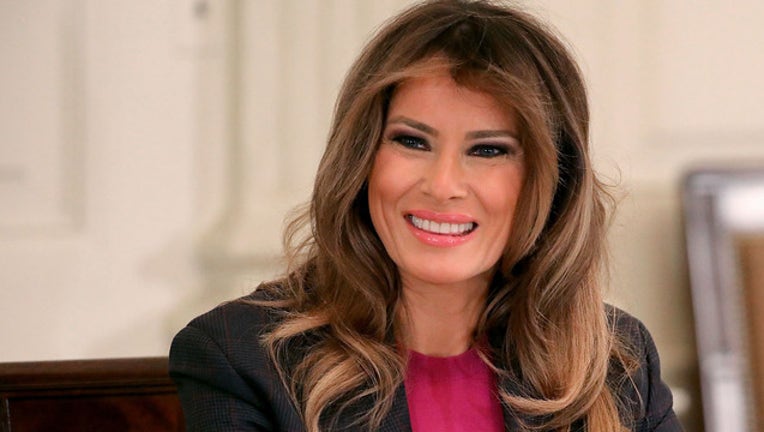 article
WASHINGTON (AP) — President Donald Trump visited his wife, Melania, in the hospital Tuesday as she continues to recover after a kidney procedure.
Trump said earlier Tuesday that the first lady is "doing really well" and that he expected her back at the White House before the end of the week. He arrived by helicopter at Walter Reed National Military Medical Center outside Washington on Tuesday afternoon.
He also visited Monday after doctors performed the "embolization" procedure.
"Melania is doing really well. She's watching us right now," Trump said Tuesday as he spoke at an annual tribute to law enforcement officers killed in the line of duty.
"And I want to thank the incredible doctors. ... They did a fantastic job," Trump added.
At the Capitol later, where he joined Republican senators at their weekly lunch, Trump reiterated that his wife is "really doing well."
Trump had tweeted earlier Tuesday that his wife "will be leaving hospital in 2 or 3 days." Her spokeswoman had said in a statement Monday that the first lady was likely to remain hospitalized for "the duration of the week."
The White House said the procedure was "successful" but withheld details of the first lady's condition, citing her privacy.
Two urologists who have no personal knowledge of Mrs. Trump's condition said the most likely explanation for the embolization procedure is a type of noncancerous kidney tumor called an angiomyolipoma.
They're not common but tend to occur in middle-aged women and can cause problematic bleeding if they become large enough, said Dr. Keith Kowalczyk of MedStar Georgetown University Hospital. Mrs. Trump is 48.
The "treatment of choice" is to cut off the blood supply to shrink the growth, said Dr. Lambros Stamatakis of MedStar Washington Hospital Center. Doctors do that with an embolization — snaking a catheter into the blood vessels of the kidney to find the right one and block it.
___
AP Medical Writer Lauran Neergaard and Associated Press writer Jill Colvin contributed to this report.
___
Follow Darlene Superville on Twitter: http://www.twitter.com/dsupervilleap