University of Arizona dismisses head football coach Rich Rodriguez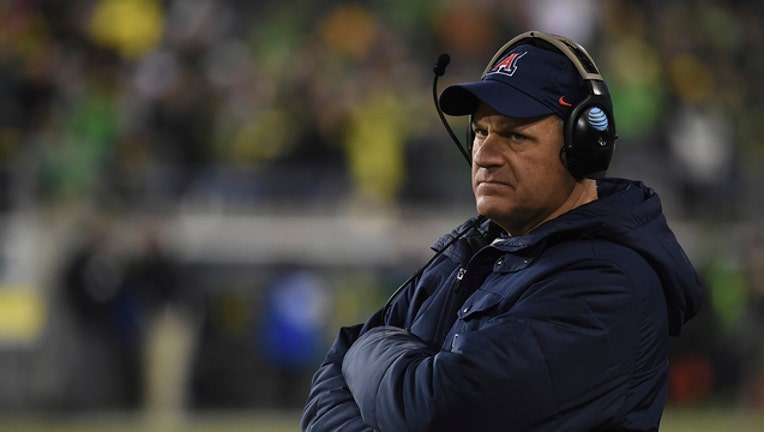 article
TUCSON, Ariz. (KSAZ) - Officials with the University of Arizona announced Tuesday night their decision to terminate the school's head football coach, Rich Rodriguez.
According to a statement, Rodriguez was under investigation, following allegations of sexual harassment that was made by a former employee in the Department of Athletics.
The school's Office of Institutional Equity, according to the statement, retained outside counsel to investigate the allegations in October 2017, after a former Department of Athletics employee accused Rodriguez of harassing her on multiple occasions.
The investigation, according to the statement, was conducted by a law firm named Cohen Dowd Quigley. Since the initial report, U of A officials said the former employee retained counsel, and declined multiple requests from U of A to take part in the investigation into the allegations.
The former employee, according to the statement, also refused to hand over communications that she alleged provided support for her allegations, and also filed a notice of financial claim against Rodriguez.
The investigation, according to the statement, concluded on December 28, and found that the allegations against Rodriguez can't be substantiated, based on the evidence and witnesses available to it.
However, the school, according to the statement, became aware of information both before and during the investigation that caused it to be "concerned with the direction and climate of the football program".
According to the statement, the school is starting a national search for its next head football coach.
Rodriguez Responds
On 9:22 p.m., Rodriguez issued a statement on his firing, via a tweet made to his verified Twitter page.
---
(Can't see the tweet? Click here)
---
According to Rodriguez's statement, he was "deeply disappointed" to learn, by email, of U of A's decision to buy out his contract.
Rodriguez also said the complaint was made by his former administrative assistant, who threatened a $7.5 million lawsuit alleging harassment. Rodriguez also said he fully cooperated with the investigation, which included him voluntarily taking and passing a polygraph test.
Rodriguez also admitted, in the statement, to a consensual extramarital affair in the past with a woman who is not affiliated with U of A, something which Rodriguez said he has already apologized to his wife and family.
Rodriguez ended the statement by saying his former assistant's allegations are simply not true, while saying it has been an honor to lead and serve his players, staff, and supporters. 
This is a developing news story. Stay with FOX 10 Phoenix for the latest updates.