Victims of the Santa Fe High School shooting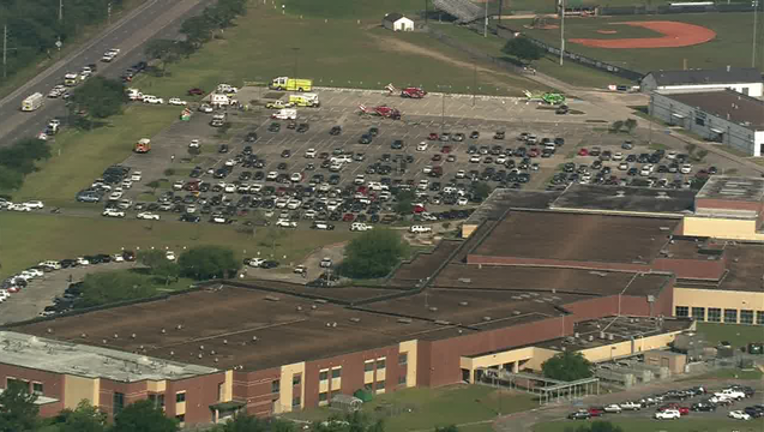 article
SANTA FE, Texas (FOX 26) - The Galveston County District Attorney, Galveston County Medical Examiner's Office and the Galveston County Sheriff's Office have released the names of the ten people who were killed in the Santa Fe High School shooting on Friday morning.
Thirteen people were also injured as a result of the shooting. 
The following people were killed in the shooting:
teacher Glenda Perkins
substitute teacher Cynthia Tisdale
student Kimberly Vaughan
student Shana Fisher
student Angelique Ramirez
student Christian Riley Garcia
student Jared Black
student Sabika Sheikh
student Christopher Jake Stone
student Aaron Kyle McLeod
Here is what we know about the victims:
GLENDA "ANN" PERKINS
Ann Perkins, 64, is said to have been a beloved substitute teacher covering the art room this morning when she was killed.
Her family released the following statement:
The Perkins family wishes to thank everyone for their thoughts, prayers, and kind notes regarding our beloved Ann. The family also wishes to express their sympathies to the other victims and their families, and would like to thank the law officers, and both emergency and Santa Fe school personnel for their outstanding efforts.
We know Ann would want the students and faculty of Santa Fe High School, to whom she lovingly dedicated so much of her time, to remember to keep their hearts open, to discuss their feelings with family members, friends, and counselors in order to successfully conquer this tragedy.
Words cannot express how much we will miss our Ann, who was an amazing and devoted daughter, wife, mother, grandmother, and friend. We respectfully request privacy at this time so that we may begin the healing process and adjust to life. Thank you for your understanding.
Santa Fe High School students, faculty, and friends of the community that Ann has touched are welcome to the visitation. The funeral service and burial will be private for the family and closed to the public. The visitation date is to be determined.
ANGELIQUE RAMIREZ
Several social media posts had shown Angelique Ramirez as one of the students who was missing after the shooting, but her aunt Sylvia Pritchett later confirmed that Ramirez was one of the shooting victims who was killed.
CYNTHIA TISDALE
Substitute teacher Cynthia Tisdale, who was initially reported among the missing following the shooting, has died, according to a Facebook post from her brother-in-law.
CHRISTOPHER JAKE STONE
Student Chris Stone, who was initially unaccounted for following the shooting, has died. Stone's sister confirmed with FOX 26 News reporter Maria Salazar that he was one of the shooting victims. He was a junior at the school and was in art class during the first period when the shots were fired. 
SABIKA SHEIKH
Sabika Sheikh was an exchange student from Pakistan. The Pakistan Embassy in Washington D.C. confirmed Sheikh was among the victims at Santa Fe High School and expressed condolences saying, "Our thoughts and prayers are with Sabika's family and friends."
SHANA FISHER
The family of Shana Fisher said she was in the art class at Santa Fe High School on Friday morning and had been unable to locate her, but later confirmed that she was among the ones killed in the shooting.