VIRAL VIDEO: Little girl with rare blood disorder sings favorite song, brings internet to tears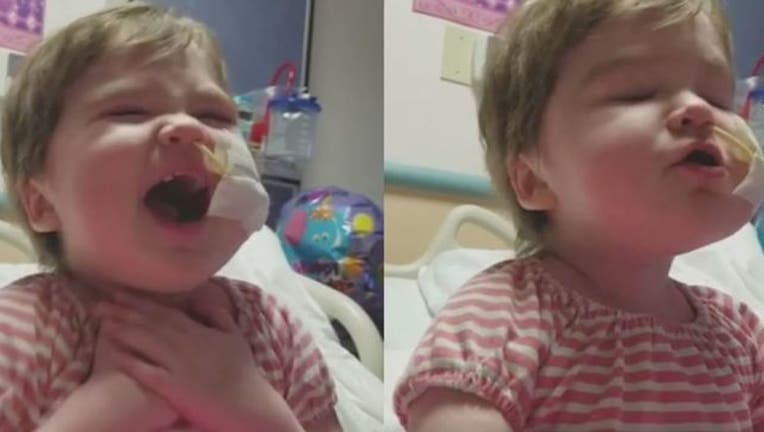 article
A brave little girl battling a rare blood disorder has brought the internet to tears in a viral video where she's seen singing her favorite song "Overcomer." 
The adorable video was uploaded to Facebook on Sunday night by her mother. It has 8.8 million views and over 198,000 shares. She even tagged Mandisa, the singer of the song-- and she responded!
In the post, Lindsay Carroll said, "She is such a light to all she meets....I hope she brings a smile to your face, too."
This is the Facebook post and video that was shared on Lindsay's page:
"My daughter has overcome two bone marrow transplants. She has spent the last 322 days away from her family and mostly in the hospital due to complications. However, she has the joy of the Lord and a love for music. Overcomer is one of her all time favs! Someone suggested I share it with you personally! She is such a light to all she meets....I hope she brings a smile to your face, too!"
"I got flooded with messages about a sweet girl named Leah singing and dancing to "Overcomer" in the hospital. After watching this video, you'll understand why. Would you join me in sending Prayers and Love for Leah? Here are some specific requests I saw in a post from her mom, Lindsay.
"-Pray for complete healing in her body.
-Pray for protection over her weakened immune system.
-Pray for her family. We are tired.
-Pray for her care team. They are weary with current events.
-Pray for all of those that Leah touches with her spirit. For I believe it's God's plan to change the world one person at a time and Leah seems to be one of His aces right now."
 Leah: You are an overcomer in the truest sense of the word! Seeing the joy of the Lord on your sweet face inspired me so much. I'm praying for you, and believe that many of my friends on here will join me. Keep trusting Jesus, and fight on, precious one.
 "You, dear children, are from God and have overcome them, because the one who is in you is greater than the one who is in the world." 1 John 4:4 NIV" 
We hope you were able to grab that other box of tissues because we're crying-- again!
To say the least, it's been such a trying journey for Leah and her family. FOX 5 asked Lindsay for any words of wisdom she might have for other parents who find themselves in similar situations and need help overcoming the hardships.
This is what she said: 
 "If you're married, make time for each other. Accept help. Married or not, situations like these are a marathon, not a sprint. Take care of yourself.  Take breaks. Listen to your body, your heart and the medical team that cares for you and your child.  Be an advocate.  Don't be afraid to challenge someone you think may be beaming the rules when it comes to your child's health and safety. "
Wise words from a warrior mom!