Watch: Rare hybrid solar eclipse wows onlookers in Australia
EXMOUTH, Australia - A rare solar eclipse plunged part of Australia's northwest coast into brief midday darkness Thursday.
The remote tourist town of Exmouth, with fewer than 3,000 residents, was promoted as one of the best vantage points in Australia to see the eclipse that also crossed remote parts of Indonesia and East Timor.
Joy Daniels captured the moment from her viewing spot in Exmouth, while Luke Riley from the boat tour agency Sail Ningaloo shared timelapse footage from the same town.
READ MORE: Countdown is on: 1 year away until the Great North American Solar Eclipse
"It's getting so dark; we have totality. Can you hear the birds? They are going crazy," Daniels says in her video.
An international crowd had been gathering for days, camping in tents and trailers on a red, dusty plain on the edge of town with cameras and other viewing equipment pointed skyward.
The hybrid solar eclipse tracked from the Indian Ocean to the Pacific Ocean and was mostly over water. The lucky few people in its path either saw the darkness of a total eclipse or a "ring of fire" as the sun peeked from behind the new moon.
How often do hybrid solar eclipses happen?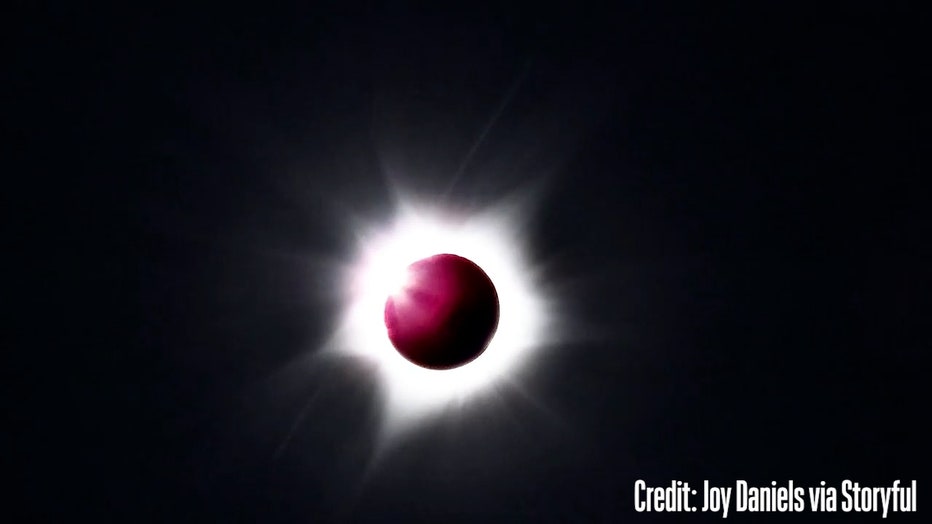 Rare hybrid solar eclipse in Australia 
Such celestial events happen about once every decade: The last one was in 2013 and the next one isn't until 2031. They occur when Earth is in the "sweet spot" so the moon and the sun are almost the exact same size in the sky, said NASA solar expert Michael Kirk.
READ MORE: Lyrid meteor shower: When it peaks and how to watch it
At some points, the moon is a little closer and blocks out the sun in a total eclipse. But when the moon is a little farther away, it lets some of the sun's light peek out in an annular eclipse.
Other eclipses, celestial events to watch for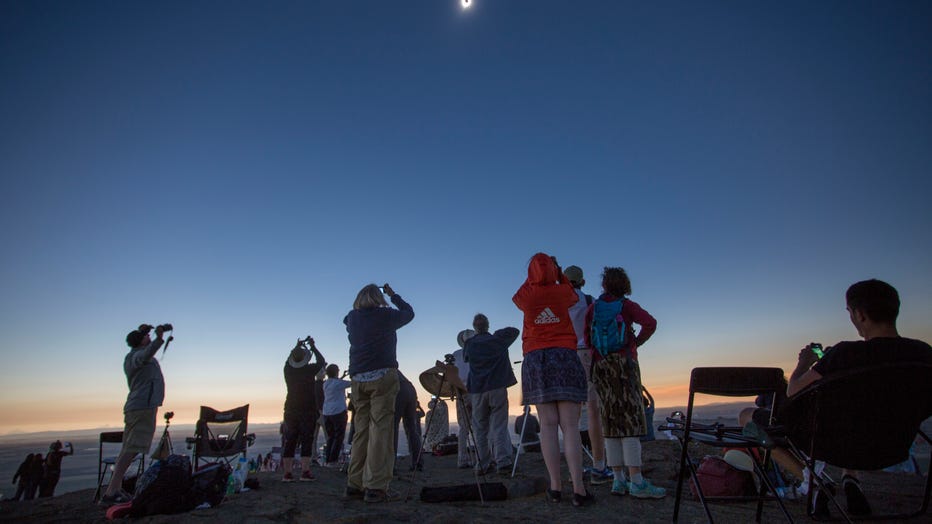 Locals and travelers from around the world gather on Menan Butte to watch the eclipse on August 21, 2017 in Menan, Idaho. Millions of people have flocked to areas of the U.S. that are in the "path of totality" in order to experience a total solar ecl
Several other upcoming solar eclipses will be easier to catch.
The Saturday, Oct. 14, 2023, annular solar eclipse will cross North, Central and South America, according to NASA. It will be visible in parts of the U.S., Mexico, and many countries in South and Central America.
In the U.S., the solar eclipse begins in Oregon at 9:13 a.m. Pacific time and ends in Texas at 12:03 p.m. Central time.
On April 8, 2024, a total solar eclipse will sweep across North America. The last one happened in August 2017.
Next year's eclipse will slice a diagonal line across North America. It will start in the Pacific and first reach land over Mexico around 11:07 a.m. local time, NASA predicts. Then, it'll cross over into Texas and move across parts of the Midwest and Northeast in the afternoon.
All in all, it will hit parts of 13 U.S. states: Texas, Oklahoma, Arkansas, Missouri, Illinois, Kentucky, Indiana, Ohio, Pennsylvania, New York, Vermont, New Hampshire and Maine. Cities in its path include Dallas; Little Rock, Arkansas; Indianapolis; Cleveland and Buffalo, New York.
Parts of Canada — including Quebec and Newfoundland — will also get a glimpse before the eclipse heads out to sea in the early evening.
READ MORE: Stunning James Webb Space Telescope photo shows merging galaxies shining with light of a trillion suns
A total eclipse will be visible within a 115-mile wide swath — the path of totality. Outside that path, you can still see a partial solar eclipse, where the moon takes a bite out of the sun and turns it into a crescent shape.
Total eclipses happen about every 18 months, but a lot of times they cross over remote areas where few people see them.
If you miss next year's spectacle, you'll have to wait 20 years until the next one hits the U.S. But that total eclipse will only be visible in Montana and the Dakotas.
The Associated Press contributed to this report.